SECU Internship Program Funds 20 Student Interns
---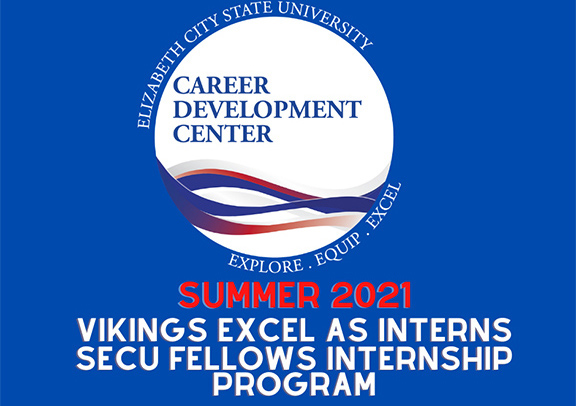 For more than three years, Elizabeth City State University has partnered with the State Employee's Credit Union to offer grant funding for students to pursue paid internships. This summer, 20 ECSU students benefitted from $100,000 awarded to ECSU.
According to the university's interim internship coordinator, Morgan Ray, resumes and applications were submitted and reviewed by the ECSU Career Development director, Yolanda Carcana, and positions across the state were awarded to students. Some students, she said, also obtained internships independently.
"Students interested in a specific internship went through the interview process prior to being hired and were subsequently awarded the SECU Public Fellows Funding," said Ms. Ray.
The internships ranged from accounting to aviation science to criminal justice and more. Students were paid $13 an hour and expected to work a minimum of 320 hours or a maximum of 384 hours during their internships.
Student interns worked either in-person or virtually.
Ms. Ray says that her office checked in with various interns and their employers, and the reports were encouraging.
ECSU senior Angel Oxedine interned at the Greensboro Criminal Justice Advisory Committee with the City of Greensboro. Her supervisor, Latisha McNeil, said Ms. Oxedine is "really shining professionally."
"She has great ideas and is incredibly involved in the assignments and processes that she is working on with us," said Ms. McNeil. "I am so happy she is with us. We've even invited her to Greensboro for a few meetings."
Gabrielle Rodgers, a junior digital media arts major, interned with LPS Consulting, an Atlanta-based, public relations firm. Latonya Story, her direct supervisor, said Ms. Rodgers provides "creative and quality work."
"She is very talented and a great communicator," said Ms. Story. "She meets her deadlines and is very receptive to constructive criticism. She is a wonderful intern."
As ECSU's Career Development Center director, Ms. Carcana says she looks forward to the continued partnership with SECU.
"It is a valuable partnership and experiential learning opportunity for students," she said.
This year's ECSU student interns are:
Aaron Tillery, junior accounting major;
Alexis Holley junior psychology major;
Alston Belch, junior aviation science major;
Angel Oxedine, senior social work and criminal justice major;
Anya Lawrence, senor psychology major;
Auburn Stevens, junior accounting major;
Briana Veil, senior social work major;
Erica Acheampomaa, senior social work major;
Gabrielle Rodgers, junior digital media arts major;
Jalissa Bradley, sophomore business administration major;
Jaysson Leach, junior kinesiology major;
Kailee Chappell, junior business administration major;
Omar Richardson, sophomore aviation management major;
Renada White, junior kinesiology major;
Shamale Norman, junior aviation management major;
Shaquita Davis, junior kinesiology major;
Sophie Runyon, junior aviation major;
Sarah Hupp, junior social work major;
Cheniec McCullough, freshman business administration major;
Hailey Ryan, junior graphic design major.
---