SECU Awards Grant for Student Summer Internship Program
---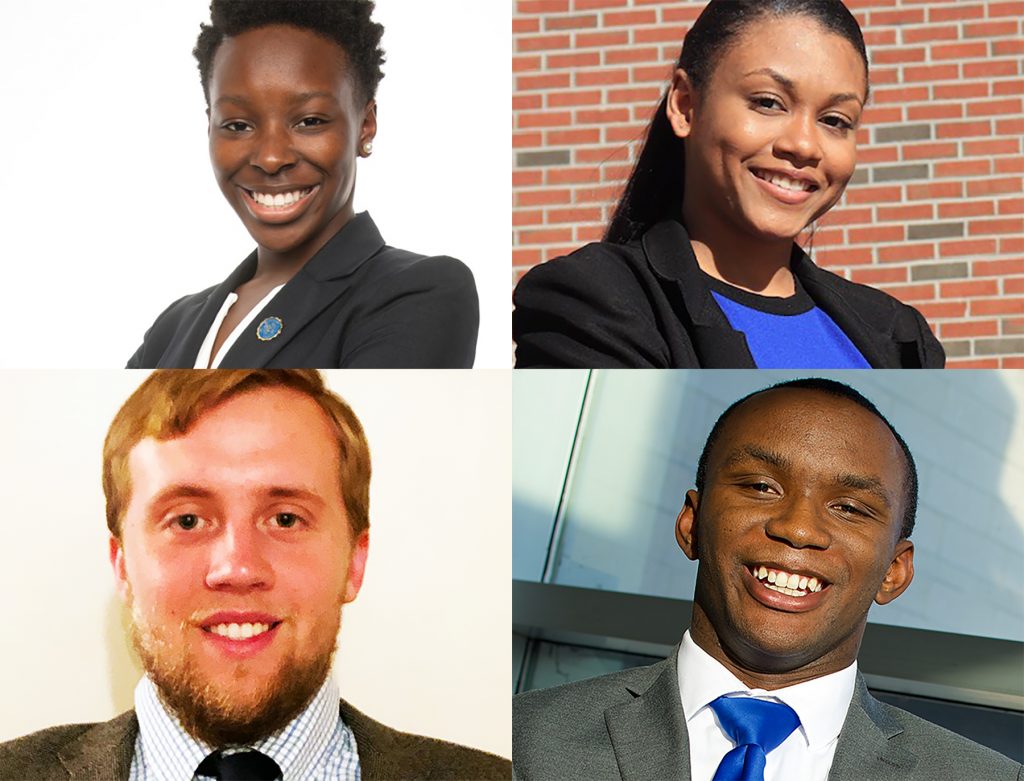 Nyla Harris, top left, Naja Robinson, top right, Noah Gunter, lower left, and Jimmy Chambers are four of 11 ECSU students participating in a summer internship program.
Eleven Elizabeth City State University students have summer internships thanks to a grant from the State Employees' Credit Union (SECU). The SECU provided $100,000 in funding for students to work 32 hours per week for a variety of organizations. 
In April, a UNC System team comprised of staff from campuses across the state initiated an effort to match students without summer internships or jobs with local government and nonprofit organizations in need of additional assistance due to COVID-19. Partners in this effort include the UNC School of Government/Lead for NC, Hometown Strong, NC Association of County Commissioners, NC League of Municipalities, NC Rural Center, and state colleges and universities.
According Yolanda Carcana, ECSU's interim director of career services, SECU's grant allows for students to be paid $13 per hour over the course of the summer. Through a partnership with the NC COVID-19 Student Response Corp, sponsored by the Governor's office, and the UNC School of Government, the 11 students were placed into internships with local government and non-profit organizations.
"Thanks to this great initiative, Elizabeth City State University was able to place the 11 students whose internships were unexpectedly cancelled or impacted due to COVID-19 with new internships with various organizations throughout North Carolina," said Ms. Carcana. "We look forward to cultivating these internship experiences into potential employment opportunities and careers in public service."
I addition to the internships, students were provided a free, virtual two-day training session early last month. The training focused on public service.
Training topics included: local government 101, nonprofit 101, public policy communications, navigating work in the real world, organizational theory and behavior, professional research, grant writing, business process reengineering, and a session exploring NC's challenges and opportunities.
The student interns are also attending a virtual professional development speaker series throughout the summer. The first speaker session took place on June 26 and featured North Carolina Secretary of Revenue Ronald G. Perry.
ECSU student and internship participant, Nyla Harris, said she's grateful for the program and grant, and wants her fellow Vikings to know that they should persist in pursuing opportunities such as this.
"I encourage my peers to not give up on applying for internships," said Ms. Harris. "Once you're accepted, it's a foot in the doorway of your future."
ECSU students participating in this program are Ashanti Sturdivant, Bryan Brickhouse, Jaiquiera Braswell, Julia Leonard, Leah Collins, Naja Robinson, Nyla Harris, Secret Webb, Shavante McKinney, Star-Asia Smith-Walley, T'Keyah Anderson, Tre'Anna Smith, Trinity Harris, Tyzrionna Ellison, Zaporia Council, Noah Gunter, Jasmine Cabarrus, Agnes Barnes, Jimmy Chambers, and Tiyana Boyce.
---