Secretary of N.C. Dept. of Revenue Ronald Penny is Founders Day Convocation Speaker
---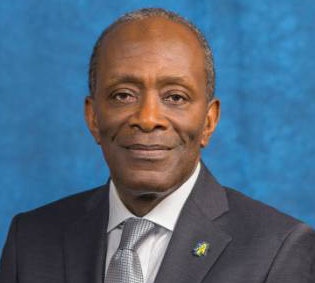 Secretary of the North Carolina Dept. of Revenue, Ronald Penny, will be the 2018 Elizabeth City State University Founders Day Convocation keynote speaker.
On Friday, March 9, at 10 a.m. in the Mickey L. Burnim Fine Arts Center, Penny will take the podium to help ECSU celebrate 127 years of history since its founding in 1891.
Penny was named acting secretary by Gov. Roy Cooper in January 2017. Prior to joining the Dept. of Revenue, Penny has been a professor and senior administrator in the University of North Carolina System. Penny served as a tenured associate professor in the Department of Public Administration, teaching courses in human resources, policy, government, law and leadership at North Carolina Central University. He served as chair of the department for more than a decade.
Under Penny's leadership NCCU's MPA program had a national impact. The program ranked as one of the most productive in the nation and students competed and won a number of prestigious fellowships.
Penny was the first Vice President for Human Resources for the UNC System. Prior to that appointment, he served eight years as the Director of the NC Office of State Personnel (now NC Office of State Human Resources) and served as a member of the executive cabinet of former Gov. James B. Hunt.
Other professional experiences include senior managing partner in Penny & Barnes, a multi-state law firm in northeastern North Carolina and the Tidewater region of Virginia, General Counsel to the Chancellor of ECSU and environmental attorney for E.I. DuPont Corporation in Delaware.
For a number of years he served as an Associate General Counsel for the North Carolina Conference of Branches of the NAACP. He was chief counsel in a number of voting rights cases in eastern North Carolina.
In 2015 and 2016, Penny was named a Hubert Fellow by the University Of Minnesota Humphrey School Of Public Affairs. As a part of that fellowship, Penny authored two digital case studies published by the University, "Executive Director Compensation: How much pay is too much?" and "The Delmar Dilemma: Wrong If You Do, Wrong If You Don't." Penny currently is an Adjunct Professor in the MBA program at Campbell University.
His public service includes two terms as the chair of the Board of Directors for the United Way of North Carolina and a member of the Governor's Budget Reform and Accountability Commission. In 2012 he was appointed by Governor Beverly Perdue to the North Carolina State Board of Elections.
Penny holds a BS in Economics from North Carolina Agricultural & Technical State University, summa cum laude, and a Juris Doctor from the University of North Carolina at Chapel Hill and is a member of the North Carolina Bar.
---