Science Fair Jump-StartSet for August 10 at Port Discover
---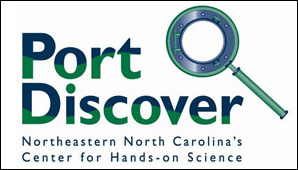 LuAnne Pendergraft, Port Discover Director
July 27, 2010
Science Fair Jump-Startis set for Tuesday, August 10 at Port Discover. The program, geared for rising 3rd to 6th graders, will run from 9 a.m. – 11 a.m. Parents are invited to join their children for a question and answer session at 11 a.m. The program is $10 per child ($8 for siblings). Port Discover members are free.
Science Fair Jump-Startis being offered at the suggestion of parents, teachers and students who wanted some direction to begin their science fair projects before the school year begins. Students are encouraged to bring in ideas for their project. Port Discover science educators will lead students through a successful project and will provide guidance and suggestions for student projects.
Space is limited and reservations are required. To make reservations, call Port Discover at 252-338-6117 or email portdiscover@portdiscover.org.
Port Discover is located at 611 E. Main Street, Elizabeth City, North Carolina. Port Discover's hours are Tuesday through Friday, 1 p.m.- 5 p.m. and Saturday, 10 a.m.- 4 p.m.and admission is free. Programs can be arranged at other times for special groups. For more information call 252-338-6117 or visit www.portdiscover.org.
Port Discover is a community-based, non-profit organization, established to enhance the public's understanding and enjoyment of science through engaging programs, activities, and exhibits. Elizabeth City State University along with the Elizabeth City Area Chamber of Commerce initiated the project that has attracted broad community support, including Elizabeth City Morning Rotary, College of the Albemarle, Albemarle Hospital, Museum of the Albemarle, Elizabeth City Area Convention and Visitors Bureau, and Elizabeth City-Pasquotank Public Schools. Port Discover is also a member of the NC Grassroots Science Museum Collaborative.
---