Scholarship Fundraising On the Rise: Gala Exceeds $200K Goal
---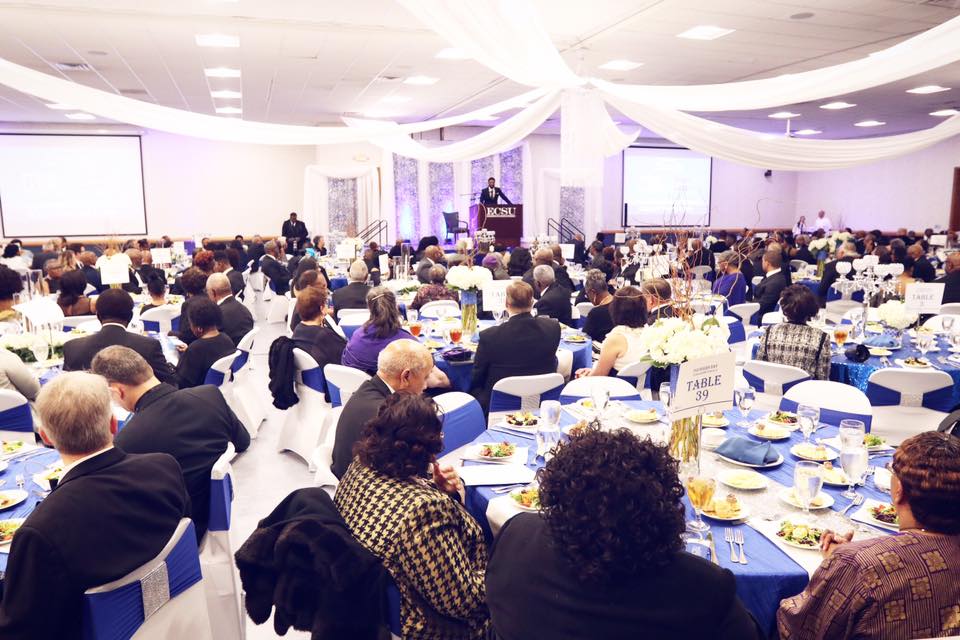 More than 400 people participated in the sold-out 2018 Founders Day Gala on Saturday, March 10. The event raised more than $215,000 in scholarship funds.
As men in tuxedos and women in glamorous evening gowns strolled into the K.E. White Center for the 2018 Founders Day Scholarship Gala on March 10, their participation in the anticipated annual event was lending its support to what is becoming a stellar fundraising year for Elizabeth City State University's Department of University Advancement.
ECSU's Vice Chancellor of University Advancement, Dr. John Lee Jr., and his team have compiled a list of fundraising successes that to-date amount to more than $1.7 million.
"I'm excited that the efforts to increase fundraising over the last year have worked and our constituents and donors have bought into the changes we've made," said Lee.
Lee says some examples of the changes being embraced by university stakeholders such as the National Alumni Association are the Day of Giving, more timely communication with donors, and new initiatives to get young alumni involved in giving and the university. One example of the young alumni initiative that has been well received is the "40 Under 40" campaign, recognizing young alums for their successes since leaving ECSU.
The annual CIAA Chancellor's Breakfast organized by the National Alumni Association is always a significant fundraising event. Held each year in Charlotte during the CIAA Tournament week, the event brings alumni to the table and raises scholarship money for future Vikings.
This year's event was coupled with ECSU being named a Tom Joyner Foundation School of the Month and gave the breakfast the double billing: Tom Joyner School of the Month ECSU CIAA Fundraising Breakfast. The event raised $42,600, according to Lee.
The other highly anticipated event is the annual gala. Created to not only commemorate ECSU's rich history, and recognize significant contributors to its mission through the Chancellor's Legacy Award, the event also raises significant funds for scholarships.
Lee says this year's gala fundraising goal was $200,000. The sold out event which hosted more than 400 people, exceeded its goal and raised more than $215,000, he said.
The list of fundraising successes can not only be attributed to changes in the University Advancement playbook, but also to the teamwork of Lee's staff. Aileen Whidbee, Monique Whidbee, Teresa Lassiter, Dr. William Broussard, Leticia Evans, and Barbara Sutton have all played important roles in raising the bar toward a very a successful year, according to Lee.
---