Satellite SBTDC office expands services in the Outer Banks
Posted On December 14, 2015
---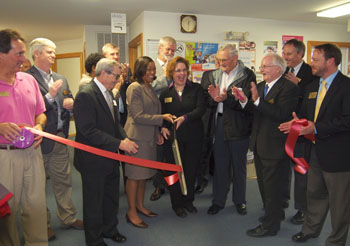 Services provided to businesses in the Outer Banks Communities are improving now that a new satellite office of the Small Business and Technology Development Center (SBTDC) has opened. This new site is located inside the Dare County NC Works Career Center at 2522 South Croatan Highway in Nags Head, N.C. For 31 years, the SBTDC has served as an advisory resource for entrepreneurs and current businesses. They also provide services to economic development organizations, government agencies and university departments.
The SBTDC office located on the campus of Elizabeth City State University serves 12 northeastern counties– Bertie, Camden, Chowan, Currituck, Dare, Gates, Hertford, Hyde, Pasquotank, Perquimans, Tyrrell and Washington. The number of businesses operating in Dare County is larger than the number of businesses operating in many of the other counties. Those business owners and their staff respond to large, seasonal waves of customers who visit Dare County for rest and relaxation. Michael Twiddy, director of the SBTDC at ECSU, said it was time to expand services provided to the Outer Banks businesses.
"This new satellite office provides a physical presence in this business market that we have not had in the past 31 years of serving the northeast. We were delighted to welcome so many people to the November 19th ribbon cutting to celebrate the opening of this satellite office," Twiddy said. "This office will serve Currituck, Dare, Tyrell, Hyde and Washington counties."
SBTDC's business counseling services have impacted the successful growth of North Carolina's economy. Serving those businesses is critical to their survival and the livelihood of the people who are employed by them. According to a 2014 State of Small Business and Entrepreneurship report, George Washington University researchers reported a positive relationship between business survival rates and the time businesses spent receiving counseling. Those services can include face-to-face counseling on business plans, marketing plans and financial strategies. Twiddy said they are looking forward to providing more of those services to Dare County business owners and their staffs.
Photo caption: 1ST row, left to right: Mike Fulton, senior account executive for Max Radio / Outer Banks Voice Scott Daugherty, state director with the SBTDC Dr. Stacey Franklin Jones, chancellor of ECSU Cathy Davison, executive director of the Albemarle Commission Bob Edwards, mayor of Nags Head Michael Twiddy, regional center director for the SBTDC at ECSU David Whitmer, director, Northeastern Workforce Development Board (NWDB)
2nd row: Zach Bray, board chairman, NWDB Jessica Young, assistant business counselor, SBTDC at ECSU Matthew J. Byrne, business counselor, SBTDC at ECSU Kenny Kee, manager, Dare County NC Works Career Center Walter Daniels, chairman of the SBTDC State Advisory Board Bion Schulken, senior associate state director with the SBTDC
---