Russian cellist and NC flutist share the symphony orchestra spotlight
Posted On December 14, 2015
---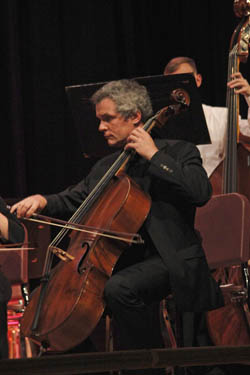 By Kesha Williams
There's nothing like a Nutcracker Suite Medley to bring smiles to the faces of your holiday concert audience. The ECSU Albemarle Symphony Orchestra delighted their audience by performing Tchaikovsky's March, Dance of the Sugar Plum Fairy, Waltz of the Flowers among others.
For the first time, the orchestra welcomed Russian cellist, Eduard Shvarts, to the stage of the Burnim Fine Arts Center. Shvarts' skills have led him to perform with the Bolshoi Theater Orchestra, the Moscow Philharmonic, the Amadeus Moscow Chamber Orchestra and others. In addition to performing as chamber musician and a soloist, he takes pride in his role as a music educator. He conducted a master class for ECSU students on November 30. Shvarts was complimentary of their conductor's selection of music.
"The repertoire which Dr. Krasnokutsky performed with the symphony orchestra really was special and important for young musicians. These are famous masterpieces, which everyone has to know, especially at Christmas time," Shvarts said.
""We are so lucky to participate in that kind of performance. The lovely audience gave so much energy and enthusiasm to performers on the stage."
Lynnette Smith, a flutist and local music teacher, also performed Mozart's Flute Concerto No.1 in G Major with the orchestra. Shvarts applauded Dr. Krasnokutsky for exposing the students to another accomplished performing artist.
"The students had a special opportunity to play with world class flute performer Lynette Smith and to hear her interpretation, hear her ideas and learn how beautiful phrasing should be," Shvarts said.
"They can learn from professional musicians like her how to catch the attention of the audience, how to keep control on your breathing. The opportunity to play with a soloist is always a special challenge. Who will be more attractive and brilliant the soloist or the orchestra?"
---