ROTC Viking Battalion improves performance at Fourth Brigade Ranger Challenge
Posted On November 17, 2009
---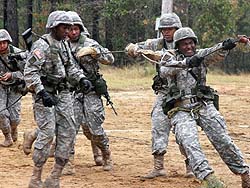 Kesha Williams
November 17, 2009
Cadets from the ECSU ROTC Viking Battalion finished 10th out of 19 at the Fourth Brigade Ranger Challenge held at Fort Bragg, North Carolina.
The Fourth Brigade of ROTC is comprised of 39 colleges and universities. The 39 colleges are divided into two divisions based upon the size of the university and the number of cadets in the ROTC program. The ranger challenge is an overall military skill competition.
&ampnbspThe ROTC Viking Battalion included 10 students as team members and three support cadets. The events at the ranger challenge included a physical fitness test, land navigation tests comprised of a written exam, day and night field exercises, a 10 km run with each cadet carrying 35 lbs of equipment, a rifle marksmanship competition, a hand grenade assault course and a one-rope bridge test.
Most of the students on the ROTC Battalion, have competed in previous ranger challenges. Lt. Col. Barnes said the team performed better this year than last year. The ranger challenge showcases the skills of officers trained in ROTC.
&quotThe cadets learn to compete with cadets from other universities in a grueling series of events held over two days. There are individual and group exercises that test their ability to persevere. The ROTC Battalion earned third place in the marksmanship category.&quot Lt. Col. Barnes. &quotNext year the team is looking to place in the top three in our respective division. Their performance at the ranger challenge prepares them for the mental and physical challenges they will encounter in U.S. Army.&quot
Melvin Perry said he returned to the Ranger Challenge for the third time this year. The Viking Battalion included students from the freshman class to the senior class. They began preparing for the Ranger Challenge in August before the semester began.
&quotThere is nothing easy about the Ranger Challenge. The average Joe off the street wouldn't be able to do the things we do there nor would most athletes,&quot Perry said. &quotIn some cases you are running while carrying your equipment uphill. You have to use your map, compass and land navigation skills during the written, timed, land navigation test. We also complete day and night land navigation tests on foot so this is a physical and a mental challenge. Safety is a priority.&quot
Participants included Jamaal Stevens from Elizabeth City, North Carolina,
&ampnbspFloyd Bailey from Moyock, North Carolina
Danny Adams from Chesapeake, Virginia
Amaquah Bonsu from Elizabeth City, North Carolina
Hein Tran from Cary, North Carolina
Brandon Smith from Rocky Mount, North Carolina
Melvin Perry from Belvedere, North Carolina
&ampnbspMichael Morton from Tampa, Florida
Ashley Smith from Newport News, Virginia
Randolph Jordan from Amelia, Virginia
The support cadets who assisted the team members in the preparation of individual event and group exercises included the following students:
Trenton Butts from Jacksonville, North Carolina
Nicholas Tangredi Moyock, North Carolina
Jesse Sanders from Moyock North Carolina
---