RIF collaborative exposes students to environment and natural resources
---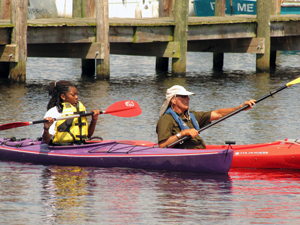 Kesha Williams
July 06, 2010
Desire Chesson, left, a student from Washington County and Tom Mikan, right, a volunteer with the Education Talent Search Program at Elizabeth City State University were two of 12 people kayaking on the Pasquotank Rive on June 29. The purpose of the trip was to observe fish, birds, geese and other wildlife along the waterway.&ampnbsp Twenty-eight students were participants in the Resources for an Inclusive Future (RIF) at Elizabeth City State University June 28 – 29.&ampnbsp Other exercises included visits to nature trails, completion of a city planning project and exercises similar to those conducted along the coastline after an oil spill.
The U. S. Department of Education funded the institute that allowed the middle and high school students from northeastern North Carolina students to attend. Students were selected based on their academic success and reputation as a young leader in their community. Resources for an Inclusive Future is a collaborative effort of ECSU, Yale University, Mississippi State University and Tuskegee University. The program is sponsored in part by the International Paper Company, National Parks Service, and the U.S. Fish &ampamp Wildlife Service.&ampnbsp RIF strives to introduce burgeoning young scholars to the fields in the environment and natural resources.
Dr. Cheryl Lewis Jackson is director of the Education Talent Search Program, the host program for RIF at ECSU. Supporting staff from ECSU's Education Talent Search Program include Prudentia Ngwainmbi, Jennifer Taylor, Chantia Williams, and Rita Blair. Supporting staff members from Yale University included Michelle Lewis, Aaron Ruffin and Vanessa Oquento from Mississippi State University.
---