Research Week Speaker: ECSU Leading the Way in Civic Engagement
---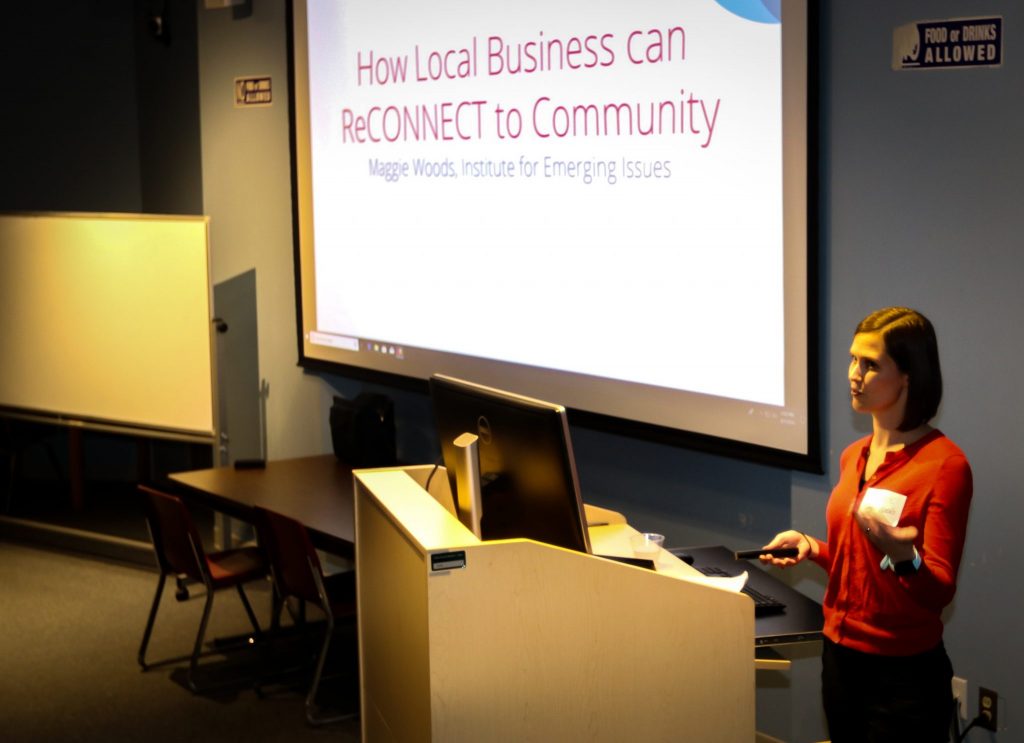 Maggie Woods from N.C. State's Institute of Emerging Issues gives the keynote talk during a reception for the third annual Research Week Monday, April 1.

Maggie Woods from the Institute of Emerging Issues at N.C. State wants folks in Northeastern North Carolina to know that people are feeling disconnected from their communities, but that there is hope.
That was, in part, Woods's message as the keynote speaker during the opening reception for Elizabeth City State University's Research Week held Monday, April 1.
"People are feeling disconnected and they're scared and they want to do something about it," Woods told a crowd of community members, and ECSU faculty, administrators, and students.
Woods says that people's trust in one another, the media, and public institutions is waning. She said a study revealed that 31 percent of people said, "most people can be trusted."
"But turn that around and it doesn't look so good," said Woods, who pointed out that nearly 70 percent of people said they don't trust other people.
The solution to all of this waning confidence in community, Woods said, is civic engagement. But how do you get the community involved?
One way is to have ECSU work to point the way towards a new direction.
Woods pointed to the ECSU-led project, One Initiative. Headed by ECSU Director of Community Engagement Russ Haddad, the project aims to bring the university and greater Elizabeth City community together to create civic progress.
Woods explained that active participation in community life improves the lives of its residents, and helps shape a stronger future. She said people who are "opting in," or becoming involved in civic life are voting, attending community meetings, and even simply helping their neighbors.
She says that people engaging in civic life tend to have more trust in their communities.
"If you have more trust, you're more likely to invest more in your community," said Woods.
According to ECSU's Haddad, the One Initiative's strategic plan incorporates a number of civic engagement opportunities, and many of them target middle and high school, and university students. Targeting these students with programs focusing on government and U.S. history, voting, personal financial literacy, media literacy, and being "an engaged citizen," all aim to raise that level of trust and confidence in the community.
Likewise, the initiative wants to raise that level of trust in the adult community, and is looking at ways to bring neighbors together.
Woods says communities such as Elizabeth City need to build a stronger social network. That in turn, she explained, brings more connections into the local economy.
ECSU's third annual Research Week will feature a number of events throughout the week. The week's activities will culminate with a talk from Dr. James Johnson, Jr., the William R. Kenan Jr. Distinguished Professor of Strategy and Entrepreneurship and Director of the Urban Investment Strategies Center at UNC- Chapel Hill.
Dr. Johnson's talk is entitled, "Preparation for an Unsparing Global Economy." For more information about Research Week, click HERE.
---