Remodeled Campus Store open now for fall semester
Posted On August 21, 2014
---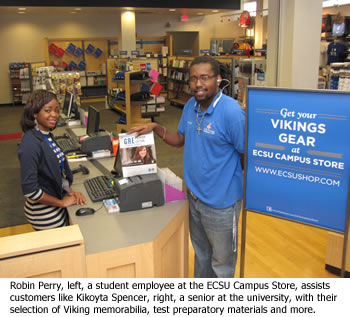 Kesha Williams
August 21, 2014
ECSU students will begin the semester shopping at a newly remodeled Campus Store.
Follett now operates the Campus Store that boasts nearly 2,000 square feet of retail space and offers an expanded selection of Viking merchandise and gifts. Choose from the student-requested New Era fitted ball caps, Nike apparel, school supplies, imprinted ECSU notebooks and binders, backpacks by The North Face and Adidas. The Campus Store also offers tablets and laptops, as well as an assortment of tech accessories. Rhyannon Potter, store manager, said the staff expanded the selection of snacks and beverages, various health &amp beauty items, cups pennants and some best-selling books.
&quotStudents, employees, alumni and fans will find assorted ECSU memorabilia here for themselves and gift items for others. We wanted to make sure the ECSU Campus Store a one-stop-shop for our customers,&quot Potter said.
Follett, Higher Education Group, a private company located in Chicago, has been focused on academic materials for over 135 years. Follett has nearly 1,000 stores nationwide, including 35 HBCU schools.
Follett brought the IncludED program to Book Rental. Similar to the existing rental process, through the IncludED system, books are now packaged per students' schedules in advance and students are then notified via ECSU email that their books are ready for pickup. Book Rental is now offering ebook rentals. Select faculty-approved courses are using digital textbooks the students registered for these courses received digital books through their Black Board and ECSU email accounts. At the end of the semester the rented ebook is removed, students don't have the stress of rental due dates or shipping them back (in the case of Distance Learners). In addition to all the physical changes, the Campus Store is online, at www.ECSUShop.com
Students and alumni can shop online anytime for supplies, gear or technology. Students can even view the books required for their classes. The objective of the ECSU Campus Store &amp Book Rental is to provide students and faculty with all the tools they need to success in academia.
The Campus Store will hold a grand opening and ribbon cutting from 12:30 p.m. to 1:30 p.m. on Tuesday, September 9.
---