Reimagine Roebuck Campaign Working to Revitalize Home of the Mighty Vikings
---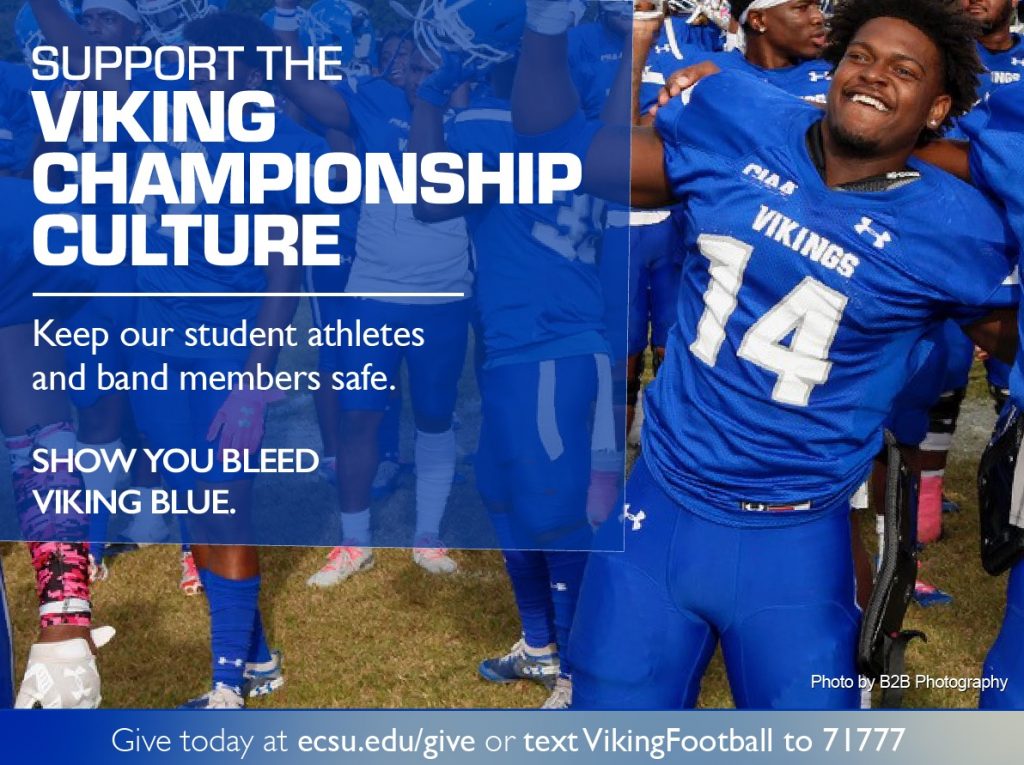 Elizabeth City State University is reimagining the future of Roebuck Stadium. With the help of the Viking community, the greater Elizabeth City community, the ECSU Foundation, Viking Athletics and alumni and friends everywhere, there is excitement building around the home of the Mighty Vikings.
According to ECSU's vice chancellor of university advancement, Anita Walton, a campaign to raise $250,000 to give the stadium a renovated football field is underway. This is the first phase of a reimagining of the stadium that is all about enhancing the student experience and student success.
"Updating the playing field at Roebuck Stadium is an investment in the future of our students," says Ms. Walton. "We are asking for the Viking community, and surrounding community members, to be a part of that future and help us raise funds by May 31."
Donor contributions will help ECSU meet the costs to have a topographical survey, remove the current surface, soil fill, update the irrigation system, and provide crown, sod and over-seed. Gifts will also help us ECSU establish a regular maintenance schedule to include aeration and seeding to keep the field safe, healthy, and attractive for this upcoming season and future seasons.
The official name of the home of the Mighty Vikings is the Carrie M. and Samuel Roebuck Stadium. It opened on Sept. 10, 1983, thanks to a challenge grant issued by the Roebucks that resulted in the construction of the $500,000 stadium.
Since that time, it has been the site of numerous Viking football matches, many homecoming tailgate extravaganzas, and numerous community events. Roebuck Stadium is an institution and community asset.
ECSU's athletic director, George Bright, says upgrading the field is tantamount to building a strong foundation for the future of ECSU students. It is not only a training ground for athletes, but also for teamwork, leadership, and life.
"Our first priority is to supply our student athletes and marching band with a safe surface," said A.D. Bright. "A safe and healthy field is the foundation for superior athletic and band performance and morale, and it enhances the fan engagement experience."
A.D. Bright says he is excited about the momentum and support coming from ECSU alumni and friends.
"The enthusiasm for this project is amazing," he said. "At the end of the day, we are all Vikings and we need each other in support for the future of Roebuck Stadium.."
To learn how you can support Roebuck Stadium and contribute, click HERE.
---