Psychology Program Puts Emphasis on Research, Graduate School, and Student Success
Posted On October 8, 2019
---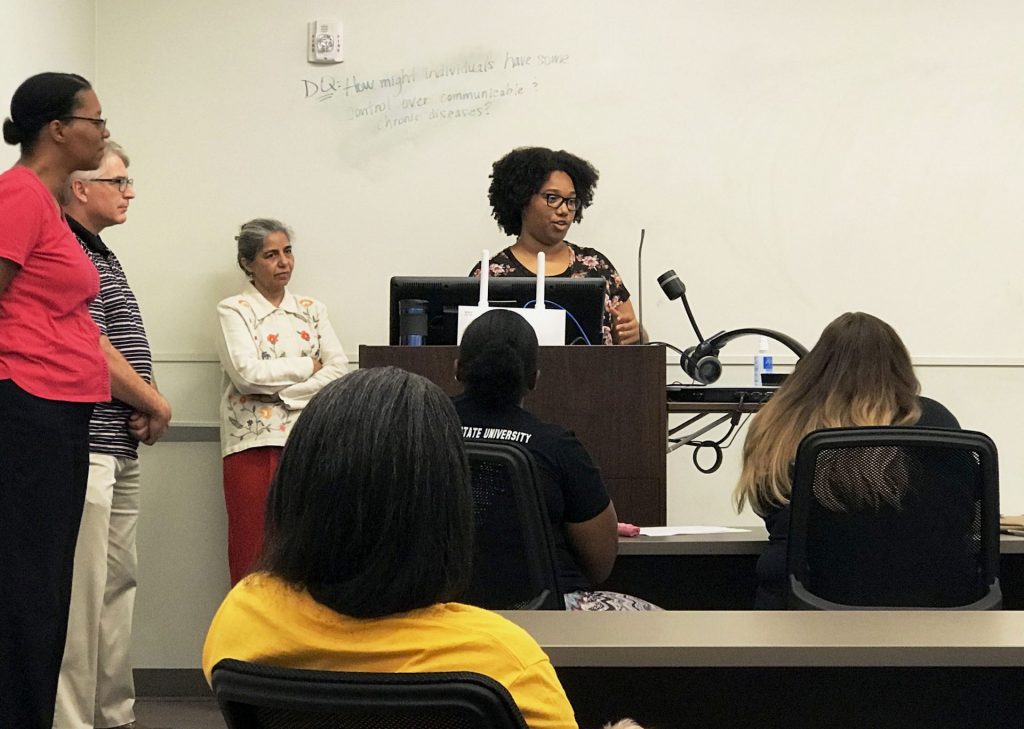 Psychology student Jada Ellis talks about her research during a psychology department program Oct. 3.
Student success at Elizabeth City State University is a top priority, something the psychology program takes to heart. Psychology program students and faculty gathered Thursday, Oct. 3 to talk about research and what it takes to prepare for graduate school.
"You guys are potentially psychologists if you are psychology majors and you've got to get a graduate education," said Dr. Kulwinder Kaur-Walker. "So if I had a message for you, make certain you get into graduate school."
That was the overall message of the presentations by both psychology faculty and students, how to prepare for graduate school. The foundation for this preparation is learning to be a solid researcher, according to Dr. Scott Bradshaw.
Dr. Bradshaw is a longtime ECSU professor and social psychologist by training. He said course work is important to getting into graduate school, and so is research.
"Graduate programs are research-based," he said. "Everybody is doing research."
Dr. Bradshaw explained to students that upon being accepted into a graduate program, students are matched with professors based on the interest of the faculty, and what the student has done as an undergraduate.
Graduate programs want to see students with research skills, he said. They rely on graduate students to assist them in executing important research that they will eventually publish in journals.
"So there's a whole lot going on besides the classroom activities," said Dr. Bradshaw. "Those (research) experiences make a difference."
Emphasizing Dr. Bradshaw's point, Dr. Jacqueline Huff encouraged students to find their area of interest while undergraduates. Aside from working in the psychology department, if there is an area of specialized interest, such as a sports and psychology, she encouraged students to seek out opportunities to learn about that subject while undergraduates.
Jada Ellis is a transfer student who understands the importance of research. She gave a presentation on her recent research project, illustrating the points made by psychology faculty in their talk.
Ms. Ellis worked on research relating to the effects of hurricanes on the mental health of area residents.
"We were looking at what causes them to stay during hurricanes," she said.
The research, which focused on Bertie and Jones Counties, also looked at what mental health resources are available to those residents. Her work was conducted under the guidance of a graduate school mentor.
"The experience was invaluable," she said. "It helped me know what to expect when conducting research."
Dr. Kaur-Walker emphasized that the students want to find a research project and get started.
"You have to be research savvy when you graduate," she said. "Start thinking about your research idea from the very beginning."
---