Provost Farrah J. Ward and Vice Chancellor Gary Brown Complete Prestigious AASCU Millennium Leadership Initiative
Posted On November 10, 2021
---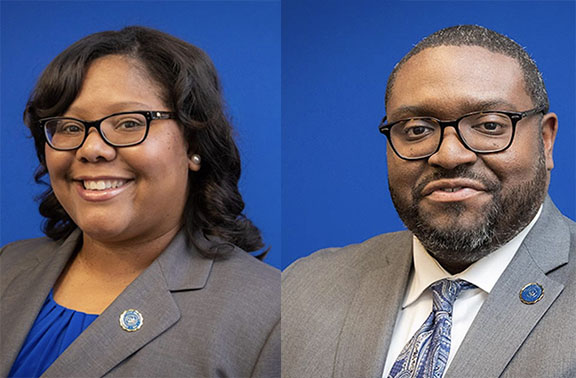 Elizabeth City State University Provost and Vice Chancellor for Academic Affairs, Dr. Farrah J. Ward, and Vice Chancellor for Student Affairs, Dr. Gary Brown, have completed the American Association of State Colleges and Universities (AASCU) Millennium Leadership Initiative (MLI) institute.
The AASCU's MLI institute is a leadership development program providing opportunity to people traditionally underrepresented in the highest ranks of higher education. The program provides the opportunity to determine if university presidency is a realistic goal and affords them the opportunity to develop skills, gain a philosophical overview and build the network to compete for and attain the position of college or university president or chancellor.
"This is a great accomplishment for both Provost Ward and Vice Chancellor Brown," said ECSU Chancellor Karrie G. Dixon, a 2013 MLI protégé. "Their leadership at this university has been and continues to be paramount to the ongoing success of ECSU. The higher education leadership pipeline is stronger because of programs like MLI."
Provost Ward joined the ECSU faculty in 2007 as the associate director of the Computational and Scientific Visualization Center. In 2010, she was named chair of the Department of Mathematics and Computer Science, a position she held for more than six years. 
She was named ECSU's provost in 2019.
"AASCU's program allowed me to gain invaluable insight from presidents and chancellors from across the country about higher education and their journey to their current positions," said Provost Ward. "I have gained a plethora of tools and techniques that will empower me to be a better provost and to navigate the ever-changing landscape of higher education. After going through the MLI program I know I am even more prepared and equipped to respond to disruptions that I will undoubtedly face in higher education. I am forever grateful to Chancellor Dixon for nominating me for the MLI program".
Dr. Brown came to ECSU as vice chancellor in July 2018. He came to the university from North Carolina Central University where he served as Interim Vice Chancellor for the Division of Student Affairs.
Since coming to ECSU, Dr. Brown has actively worked to build and strengthen the university's Division of Student Affairs.
"I am very much appreciative of the support of Chancellor Dixon in nominating me for the program," said Dr. Brown. "The experience overall was both transformative and inspirational. The invaluable lessons learned and relationships that have been developed with seasoned presidents and chancellors and colleagues across the country are memories that I will cherish for the remainder of my career."
Since its inception more than 20 years ago, the MLI has seen nearly 700 graduates from its program, of which 149 have become university or college presidents or chancellors.
---