Priscilla Gordon's Resilient Viking Spirit Brought Her Back to ECSU as a Student and Entrepreneur
---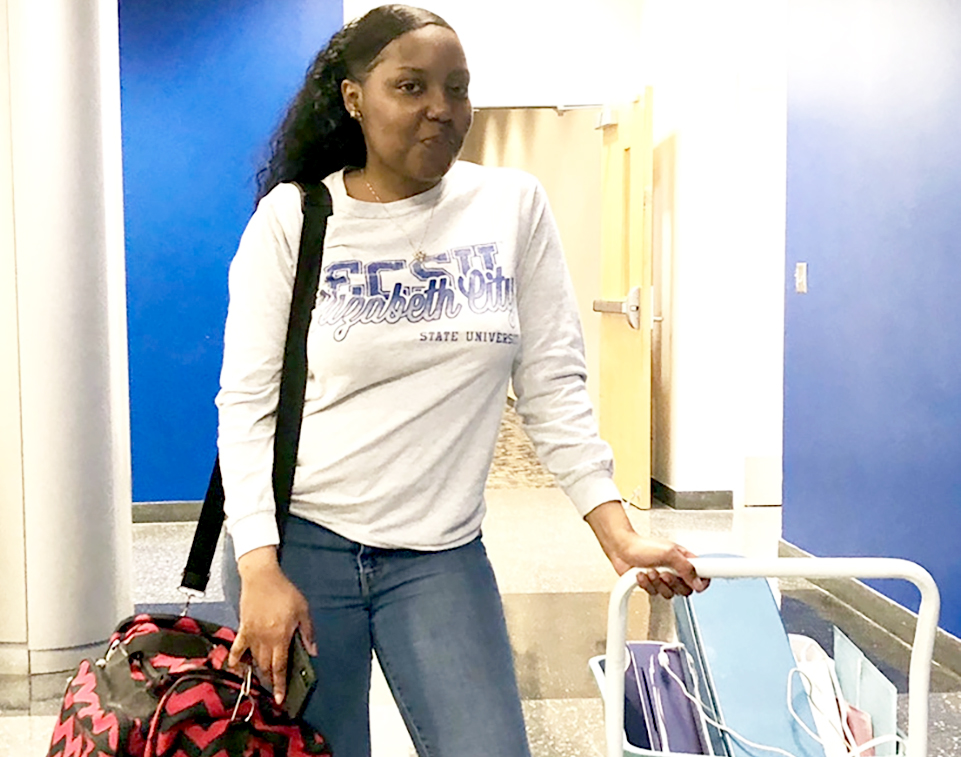 Priscilla Gordon is a senior social work major. She returned to ECSU after 10 years and along the way became a successful entrepreneur.
Plans get delayed, but Vikings are resilient. Priscilla Gordon, a social work senior at Elizabeth City State University, knows this all too well.
Ms. Gordon was a student at ECSU in 2010 when family matters, that she said were out of her control, caused her to push the pause button on her education. Now, a decade later, she is not only poised to finish her degree, she is also the owner of a thriving business that not only serves the public, but fellow Vikings as well.
"You wouldn't believe what years of maturing does for the mindset," said Ms. Gordon. "Coming back, I have new responsibilities including paying for school out of pocket. You couldn't have told me a few years ago that this was possible; a struggle, but possible.
Ms. Gordon says the decision to leave ECSU in 2010 has "weighed heavily" on her. Her education is important and in the intervening years, she did attend to it, albeit at the College of The Albemarle where she earned an associate degree in occupational health.
She also married and now has two children. And all of this while she has been busy creating a business start-up, Priscilla's Designs.
"For the past three years, I've been making customized T-shirts, decorating storefronts, and creating reborn dolls (existing dolls recreated by artists)," she said. "I began teaching classes for making T-shirts and have actually taught two classes at ECSU. The classes were to teach students the possibilities for making money right from their dorms."
Earlier in July, Ms. Gordon opened Priscilla's Designs. While she works on completing her social work degree, Ms. Gordon is busy teaching her classes and selling merchandise in her shop on Halstead Boulevard.
In her shop, she is teaching T-shirt design and other crafts using a Critcut cutting machine. The machine cuts patterns and words from a variety of materials and her students can create a number of things beyond T-shirts, such as decals and other gift items.
She also plans to host birthday parties where she will show kids how to make their own T-shirt designs.
"It's been such a blessing and a humbling experience I never knew I needed," she said.
Ms. Gordon says that her "ultimate goal is to inspire someone that may be in the dark."
"The end of the tunnel is coming in due time, and you can do anything you set your heart to," she said. "No matter your background, no matter your history, your time is coming."
---