'PREP for Your Future Day' Gets High School Students Ready for College
---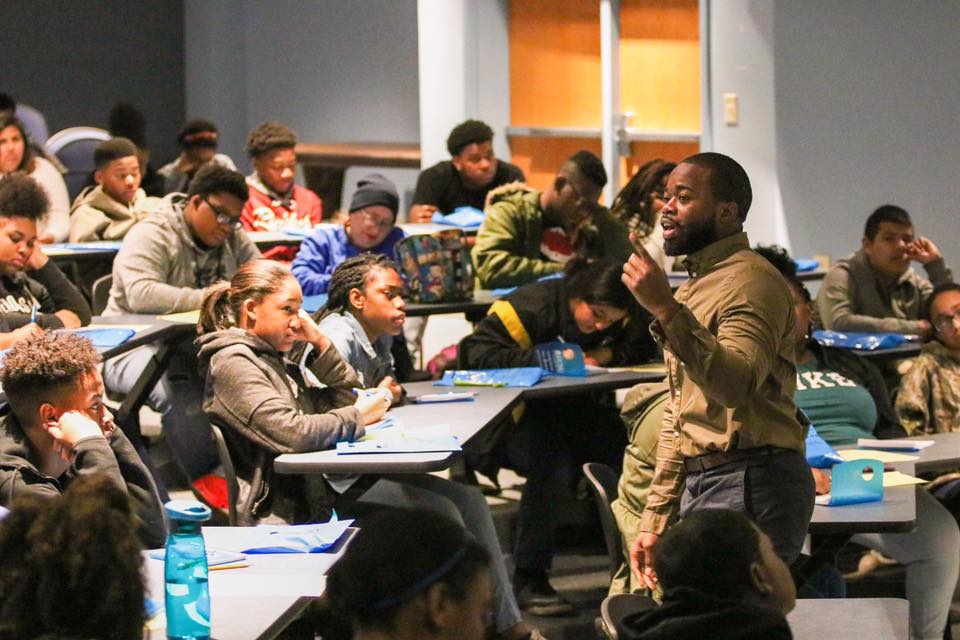 Nationally recognized speaker and author, Odell Bizzell, speaks to high school students during ECSU's pre-college program, PREP, Saturday, March 10.
By Dr. Kimberly Stanley
While university students are on campus pursuing their degrees, another group at Elizabeth City State University is busy preparing future students for success.
On Saturday, March 10, two of ECSU's Pre-College programs, NC-MSEN and the Upward Bound Program, hosted a PREP (Practical Real-World Experiences and Preparation) Day for 65 high school students.
The day began with a greeting provided by Dr. Derrick Wilkins, Associate Vice Chancellor for Academic Affairs. During his greeting, he recounted his experience as a student at ECSU and encouraged the students to explore the possibility of attending the university.
After the greeting, Odell Bizzell II, a nationally known speaker and author who has presented on the same stages as celebrities like Stephen A. Smith and Oprah Winfrey, presented a workshop entitled, "Things My Parent's Didn't Tell Me About Money." During the workshop, he provided strategies and tips for the students to make good financial decisions.
Bizzell also encouraged the students to use their talents to make money as they matriculate through high school and college. He used his candy retail distribution center he started in high school as an example; by selling candy, he made over $75,000 in four years.
The students participated in afternoon workshops sponsored by the National Association of University Women-Elizabeth City Branch. Felicia Dawson Brown, a counselor in the ECSU Counseling and Testing Center, provided strategies that students could use to reduce stress, and manage their time and resources.
In another workshop entitled, "College Readiness and College Admittance," Dr. Arthur Jackson, ECSU Interim Vice Chancellor for Student Affairs, and Mr. William Butler, an ECSU admissions' counselor, discussed how to apply for admittance to the university, and the essential steps for being prepared for college.
---