Port Discover launches blog for kids
Posted On August 16, 2010
---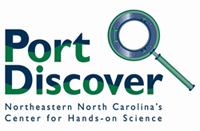 Kesha Williams
August 16, 2010
Port Discover has launched &quotAsk Port Discover,&quot a blog designed to provide curious children with a place to pose science questions to working scientists.&ampnbsp The blog expands on the in-center &quotAsk Port Discover&quot Question &ampamp Answer Exhibit that was introduced as part of a grant from the North Carolina GlaxoSmithKline Ribbon of Hope program.&ampnbsp Port Discover's new blog is located at www.askportdiscover.blogspot.com.
Since launching &quotAsk Port Discover,&quot scientists have answered questions from kids, ranging from 'What is the biggest shark tooth in the world?' to 'How come different bodies of water have different salinities?'&ampnbsp Among our scientists answering the questions are faculty members from Elizabeth City State University and College of the Albemarle, as well as science educators from Port Discover.&ampnbspTwo professors in the ECSU Biology Department received a question from a local second grader who recently asked why jellyfish glow.
Dr. Maurice Crawford, an assistant professor in the Biology Department, answered the question and provided a few examples of creatures in North Carolina that glow.
&quotThe jellyfish have a protein inside them that allows them to glow. There are fishes living in deep see that glow (bioluminescence). In some cases it is a means of them communicating. There are some phytoplanktons in the nearby Atlantic Ocean that glow. Fireflies are doing the same thing, though they may not use the same protein to glow.&quot
Crawford's research interests include fish ecology, estuarine habitat conservation/restoration impacts of land use on coastal systems the dispersal and movement of organisms and the interplay between science and policy. He said the blog is a way to provide service to the community.
&quotThis blog is another way we (professors) learn more about what the community is interested in.&ampnbsp I like working with the children's questions because it maintains their interest in the sciences.&quot
Dr. Margaret Young, an associate professor in the Biology Department provided a similar response.
&quotJellyfish glow (bioluminescence) because they contain this protein GFP (green fluorescent protein).&ampnbsp This protein appears green to us.&ampnbsp They do not glow all the time.&ampnbsp The most reasonable explanation is that it is a defensive mechanism against predators.&quot
Now, thanks to the Ask Port Discover blog, all those questions-and answers- are on-line. &ampnbspAs children pose questions, and scientists answer them, they will be added to the blog.&ampnbsp To pose a question, visit www.askportdiscover.blogspot.com.
Port Discover is located at 611 East Main Street, Elizabeth City, North Carolina. &ampnbspPort Discover's hours are Tuesday through Friday, 1 p.m. – 5 p.m. and Saturday, 10 am – 4 p.m. and admission is free. &ampnbspPrograms can be arranged at other times for special groups. &ampnbspFor more information call 252-338-6117 or visit www.portdiscover.org.
Port Discover is a community-based, non-profit organization, established to enhance the public's understanding and enjoyment of science through engaging programs, activities, and exhibits. &ampnbspElizabeth City State University along with the Elizabeth City Area Chamber of Commerce initiated the project that has attracted broad community support, including Elizabeth City Morning Rotary, College of the Albemarle, Albemarle Hospital, Museum of the Albemarle, Elizabeth City Area Convention and Visitors Bureau, and Elizabeth City-Pasquotank Public Schools. &ampnbspPort Discover is also a member of the NC Grassroots Science Museum Collaborative.
For more information, contact: Jessica Faulkingham, 252-338-6117&ampnbsp portdiscover@portdiscover.org
---