Pinning Ceremony Officially Welcomes Freshman Class of 2023
Posted On August 23, 2019
---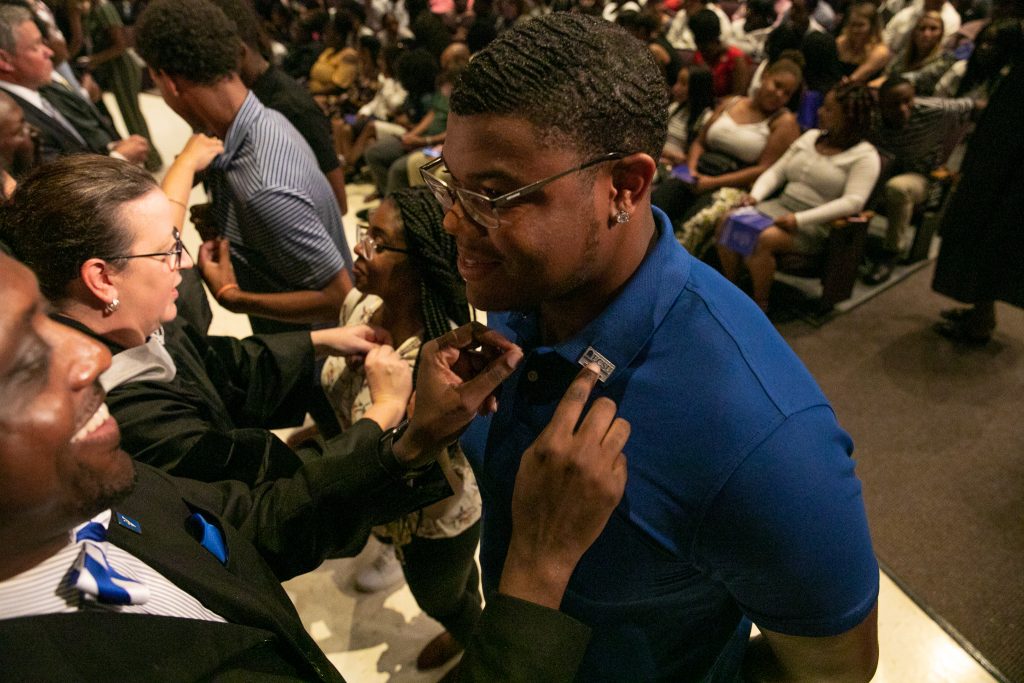 Professor Clarence Goss, left, pins freshman Keshawn Jarrett, a sports management major from Hamilton, North Carolina, during the Freshman Pinning and Fall Convocation ceremony Thursday, Aug. 22.
It was a packed Robinson Auditorium Thursday, Aug. 22, when 385 Elizabeth City State University freshmen stood up to be counted among the newest members of the Viking family.
The event was the ECSU Class of 2023 Freshman Pinning and Fall Convocation and the Viking spirit was alive from the moment students began taking their seats.
"It is a privilege to be a part of the Viking family, and one that requires commitment," said Dr. Farrah Ward, ECSU provost.
Dr. Ward, greeting students, family members, faculty and staff, opened the ceremony. Her remarks celebrated the spirit of education that has been passed down since ECSU's founding in 1891.
She noted that through many years of transitions and name changes from the State Normal School, to Elizabeth City State Teacher's College, to Elizabeth City State University, "Our commitment to education has never wavered."
"These students will add to the story of ECSU's legacy," said Dr. Ward.
While the ECSU story, and subsequently the legacy, may begin with a freshman class, it does not end as long as Vikings are traveling life's roads, returning home to deliver their message of hope and success to a new generation. That was, in short, the message of the event's keynote speaker, Kevin Wade, ECSU's associate vice chancellor of student affairs.
Wade, a 2002 ECSU graduate, has traveled his road through the world of higher education, working for various institutions before returning to what he says is "home."
Wade used the classic story of "The Wizard of Oz," made into a film in 1939, and the story's cinematic retelling with an all-African-American cast and storyline, "The Wiz," as a metaphor for life's journey. Instead of the proverbial yellow brick road of the L. Frank Baum story, Wade has traveled the "royal blue road," indicating ECSU's primary school color.
Like the story, Wade's journey brought him in contact with a cast of characters that have informed his life. And many of them were right here, at ECSU, where his journey began.
"If it was not for these people, I would not be here today," he said.
Kevin Wade's message to the Class of 2023 was simple: Get out and participate in their journey, and have the confidence to know that, "I can and I will."
"No matter where you come from, you are enough," he said.
After the keynote speech, members of the freshman class lined up to receive their pins. One by one, they were pinned by a staff or faculty member, followed by comments from ECSU's chancellor, Dr. Karrie Dixon.
"You are the first class of my permanent chancellorship, so you are a special class that I will always remember," she said. "I want you to know that you will always be in my heart."
---