Phi Alpha Theta inducts five new members
Posted On December 6, 2010
---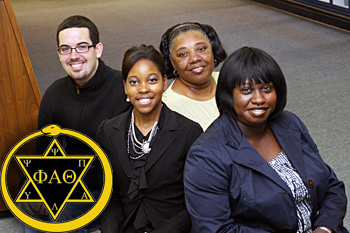 Kesha Williams
December 06, 2010
Five students at Elizabeth City State University were recently inducted into Phi Alpha Theta, a professional society whose mission is to promote the study of history through the encouragement of research, good teaching, publication and the exchange of learning and ideas among historians.
The students inducted were Erica L. Johnson, from Charlotte, N.C., Joseph D. Thornhill, from South Mills, N.C., Qreatha B. Stewart, from Weldon, N.C., Karen A. Wilkerson from Tyner, N.C., and Jerry Lynn Johnson, Jr., from Elizabeth City, N.C. Dr. Jingbin Wang and Dr. Ted R. Mitchell, assistant professors of history, are their advisors.
As members of Phi Alpha Theta, they are entrusted with the responsibility of maintaining the scholastic, professional, and ethical standards of the society.&ampnbsp They are also eligible to participate in the honor society's extensive scholarships and awards program. Further information can be found at www.phialphatheta.org.
Every year, Phi Alpha Theta chapters across the country hold regional meetings where members are invited to present their research papers.&ampnbsp Every two years, Phi Alpha Theta holds its Biennial Convention – a national forum – where students from all across the country present their research. In addition to the membership certificates, members receive a one-year subscription to the journal, The Historian and in approximately six months, their names will appear in the journal as new members.
---