P.A.C.E. Center Provides ECSU Refuge for Diversity and Inclusion
Posted On October 5, 2018
---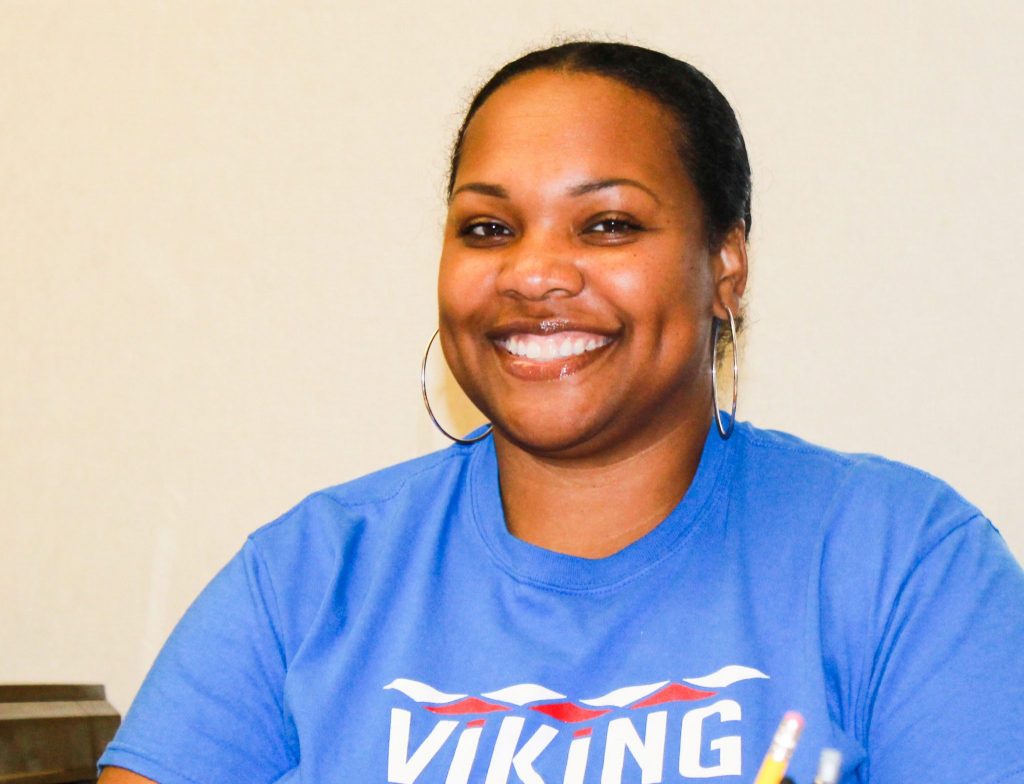 Dr. Crystal Terry, a professor of public health, is the director of the new P.A.C.E. Center. P.A.C.E. stands for Prevention, Awareness and Cultural Education.
Students come to Elizabeth City State University for an education, but a campus is a community and with that comes the trials and tribulations of life. To make that life smoother, however, ECSU has launched P.A.C.E., or Prevention, Awareness, and Cultural Education, a center dedicated to diversity and inclusion on campus.
According to P.A.C.E. director, Dr. Crystal Terry, the office is an expanded version of ECSU's Women's Center. Where the Women's Center focused on issues of sexual assault, date assault and stalking, P.A.C.E. goes further to address issues that relate to members of the LGBTQIA community, and any group on campus that represents diversity.
"We are going to focus on the component of being respectful of the populations on campus and coming from a no-violence standpoint," said Dr. Terry.
The Women's Center has traditionally provided students with a place to seek information on sexual assault, counseling and well-being. That mission remains intact, says Terry, but with the focus on a broader spectrum of ECSU community members.
Dr. Terry's office is currently located in room 209 of the Ridley Student Center. However, she says the commuter lounge, located on the second floor of Ridley, is currently slated to become the P.A.C.E. headquarters, operated by a student staff.
The P.A.C.E. program is already at work, however, organizing events and programs to better educate students on diversity and inclusion issues. Dr. Terry says one new component has been working with incoming freshmen, and collaborating with the domestic violence shelter and counseling center, Albemarle Hopeline, to give those students training and education.
"Basically coming up with innovative programs to educate and bring awareness to our campus community and employees, and even our community collaborators about these groups," she said.
Other events include No More Abuse Week, starting Monday, Oct. 8. Activities include the Love Your Selfie Paint Session.
"We will give information about dating and domestic violence," said Dr. Terry. "The students will then paint something that deals with domestic violence."
Another event happens on Oct. 18, Take Back the Night. Similar to the campus safety walk held last spring, Take Back the Night will get students out across campus to walk and learn.
"There will be some surprises at different stops and we will talk about dating and domestic violence," she said.
The P.A.C.E. center comes to ECSU at the right time in history. Last year the #metoo movement was sparked amidst high-profile, national sexual assault allegations and, says Dr. Terry, more and more men and women are finding that discussing the issues, and even coming forward to talk about their own assaults, is more accessible.
Dr. Terry is quick to point out that the issues addressed by P.A.C.E. are dealt with by both men and women, and is not limited in scope to gender, sexual orientation or any other diverse population. The goal of the center is to provide comfort, and education, to everyone on the ECSU campus.
"And for any group that doesn't feel like it has the support, we want to make sure we offer something that meets the need," she said.
For more information on P.A.C.E., contact Dr. Crystal Terry on campus at 252-335-8535.
---