Outgoing UNC System President Spellings Says Goodbye to ECSU
Posted On January 7, 2019
---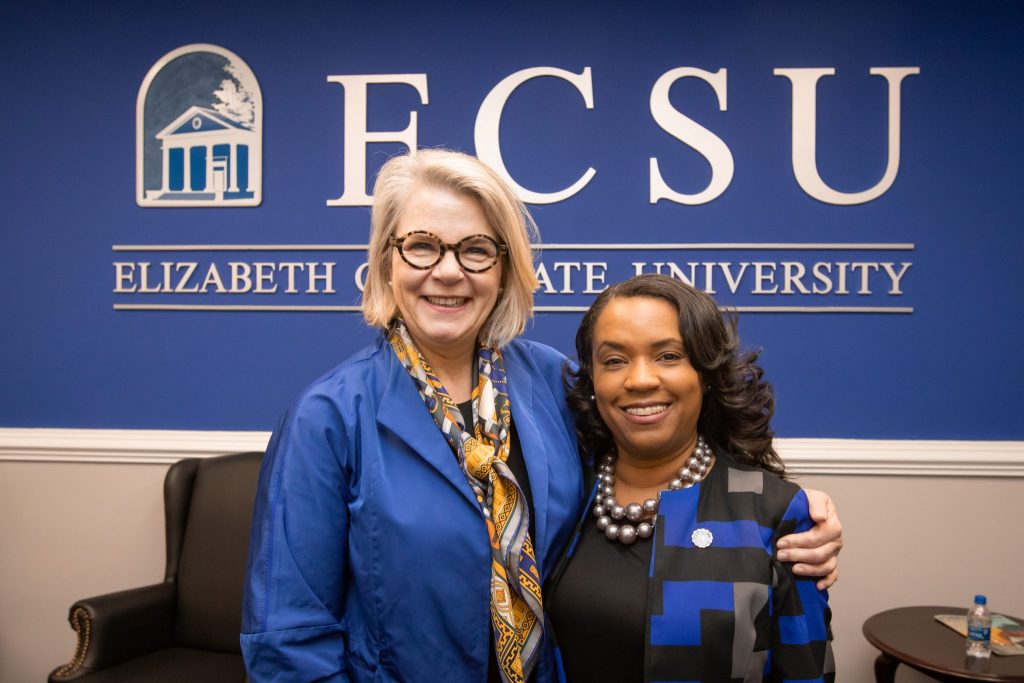 Outgoing UNC System president, Margaret Spellings, left, paid a visit to ECSU Monday, Jan. 7. She met with ECSU Chancellor Karrie Dixon, and others.
From the time outgoing University of North Carolina System president Margaret Spellings first toured the campus of Elizabeth City State University, to the present, she's been a big fan of Viking Pride and the small campus with a big heart in Northeastern North Carolina.
"I fully believe that Elizabeth City State University's best days are absolutely ahead," Spellings said Monday, Jan. 7, when she made her last visit to ECSU.
Spellings announced her resignation from UNC's top post last year. Jan. 15 will be her last day as the System president.
On Monday, she made a stop at ECSU along with North Carolina Community Colleges president, Peter Hans. After meeting with ECSU Chancellor Karrie Dixon, Spellings was greeted by members of the university Board of Trustees during a brief luncheon.
Trustees chair Harold Barnes thanked Spellings for her service to ECSU.
"We are a far greater institution because of what you have done for us," said Barnes.
Dr. Dixon, for her part, not only acknowledged the work Spellings has done to move ECSU forward, but also expressed gratitude for her support personally.
"I am very blessed to have Pres. Spellings to believe in my leadership," said Dr. Dixon.
Under Spellings' guidance, ECSU underwent two phases of a working group comprised of not only ECSU officials, but also System experts. Along with former ECSU Chancellor Thomas Conway, Dr. Dixon led the second working group effort, putting a focus on key issues such as enrollment, admissions, and financial aid.
At the time of the launch of the second working group, Spellings acknowledged that under the guidance of Dr. Conway and the first phase of the working group process, ECSU was making strong progress.
"We have a solid, stable platform for the future of the university," Spellings said at the launch of the second working group in October 2017.
At the time of the launch of the second working group, Dr. Dixon was the UNC System vice president of student and academic affairs. However, when Dr. Conway announced his retirement early in 2018, Dr. Dixon was tapped as ECSU's interim chancellor, and was officially named chancellor by the UNC Board of Governors last December.
Since the fall of 2018, ECSU, along with two other system campuses, has also been an N.C. Promise school, offering reduced tuition to students. The program is thanks to the work of Spellings and the North Carolina General Assembly, addressing the need for affordable higher education.
While Spellings and her team has worked to move ECSU toward a strong future, the mantle has been passed to Dr. Dixon as the new chancellor. Dr. Dixon, during the luncheon, reminded her team that no one, including herself, could carry ECSU forward alone.
"I can't do this by myself," she said. "I need a great team and we are a great team."
---