Olivia Vaughan is the Spring 2021 Bearer of the Mace
---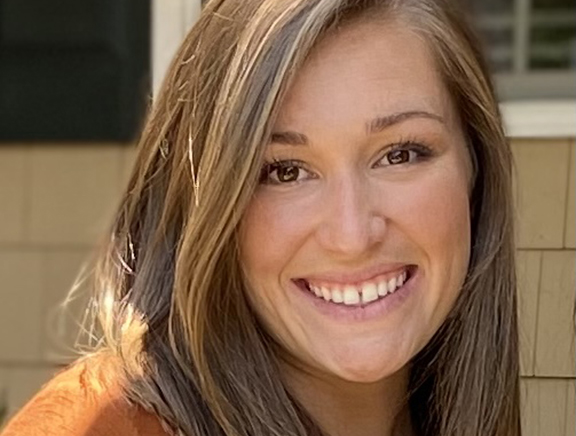 Currituck County, North Carolina resident and spring 2021 Elizabeth City State University senior Olivia Vaughan has been named Bearer of the Mace. Ms. Vaughan is graduating with the highest GPA of an undergraduate, non-transfer student at 3.9633.
She was notified of her honor on Thursday morning, May 6.
"I wasn't expecting it," she said. "I know my GPA was decent, but I didn't think I was at the top. I'm honored."
Ms. Vaughan, 24, is graduating with a degree in elementary education with a concentration in psychology. She is the fourth member of her family to graduate from ECSU.
Ms. Vaughan says that teaching is clearly her passion, although she wasn't 100 percent certain in the beginning. She also had visions of being a cosmetologist, so she first earned her certificate and license and started working as a stylist.
"But I wasn't sold on it," she said. And that told her that her instinct to become a teacher was right on the mark.
"I love teaching. I absolutely love teaching," she said.
In fact, Ms. Vaughan has been a teacher since November 2020.
"I did my student teaching at Shawboro Elementary and was hired to teach early," she said.
After receiving permission from the education department, Ms. Vaughan accepted the invitation to teach, albeit virtually. She says the virtual classroom "has been quite an experience" and looks forward to teaching fifth graders in-person beginning next fall.
ECSU has a legacy of producing great teachers. The program, said Ms. Vaughan, has prepared her for the classroom largely through hands-on work with students.
"I feel like it prepared me for sure," she said.
She credits all of the education faculty but said Dr. Cheryl Luton has been especially significant in her growth as a student.
"She was always there to help me," said Ms. Vaughan. "I am going to miss her."
Ms. Vaughan says her decision to become a teacher was the right one because her heart is in it. And that, she says, is important when deciding if education is the path for you.
"Be ready to work and make sure teaching is 100 percent what you want to do," she said. "Because you can't go into it if you're heart isn't in it."
---