Office of Career Services holds five career fairs this year
Posted On September 25, 2012
---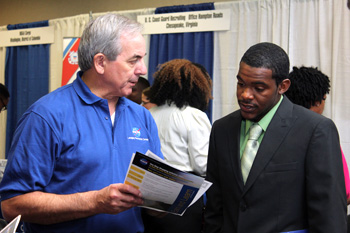 Kesha Williams
September 25, 2012
More than 200 students attended a career fair held Sept. 19 by the Elizabeth City State University Office of Career Services. The event, held in the Walter N. and Henrietta B. Ridley Student Complex on the ECSU campus, attracted representatives from businesses and government agencies who discussed internship and employment opportunities.
It was the first of five career fairs planned for the 2012-13 academic year by the Office of Career Services. Typically, the office holds two such events annually.
Makitta Whitehurst-McLean, a student services specialist with the office, said the current economy makes it important for students to begin the job hunt early. She said she looks forward to expanding the scope of internship and job opportunities for students.
Like many students, Tiarra Moore, a criminal justice and chemistry double major, is getting a head start by landing internships while in college. Moore is scheduled to graduate in May 2014. After a visit to the Office of Career Services last spring, she landed a summer internship with the National Park Service's Student Conservation Association. She interned on the Caribbean island of St. John at Virgin Islands National Park.
The experience was an eye opener for Moore, who worked closely with safety and law enforcement officers and managers. &quotI conducted safety inspections, participated in water quality testing, updated the visitor injury database and assisted in compiling data for employee injuries obtained from the local law enforcement agency,&quot Moore said.
In addition to scanning and organizing documents, she also had time to explore the park, which covers about 60 percent of the island that is part of the U.S. Virgin Islands.
While all internships don't lead to job offers, Whitehurst-McLean reminds students that internships are critical. They provide students with a realistic view of full-time jobs related to their college majors. Students quickly see the difference between their current, campus lifestyle, where casual clothing is the norm, and full-time work where employers set specific dress codes.
Other realities observed are the importance of planning for departmental meetings and conducting experiments or project segments related to actual tasks the organization is responsible for completing. Best of all, students can note the standards of excellence they will be held to when they walk the aisles of the people who serve as mentors on the internships.
This year, the Office of Career Services announces several new services, including a new, web-based program CareerBeam. It is a full-service, career development portal designed to provide all the resources necessary to guide students and alumni through the strategic job search process and achieve their career goals.
The center also announced a new peer group, the Career Services Student Advisory Board, or CSSAB. It consists of 12 students who were nominated based on recommendations from deans, chairpersons, directors, faculty members, or other professional staff members on campus. CSSAB students assist the center by providing reviews of Career Services programs, developing ideas for new programs and increasing awareness of career- related resources and events. Members range from freshmen to seniors from all majors.
The next Career/College Fairs:
Nov. 1, 2012, a &quotGreen Job Fair&quot sponsored by The Albemarle-Pamlico Conservation and Communities Collaborative and ECSU's Office of Sustainability and Office of Career Services. The purpose of the fair is to introduce students to internships and employment opportunities offered by &quotgreen&quot companies, agencies and nonprofits.
Location: Kermit E. White Graduate Education Center from 1 to 5 p.m.
Nov. 8, 2012, A Graduate School Fair. Students will be able to receive valuable information on entrance to graduate schools.
9 a.m. – 1 p.m., Walter N. Henrietta B. Ridley Student Complex- Room 216 booths will be set up throughout the building
Feb. 21, 2013, Annual Teacher Job Fair
9 a.m. to 1 p.m., location pending.
April 9, 2013, Summer Job and Internship Fair. Students will be able to meet with organizations and fill out applications for summer jobs.
12 p.m. 5 p.m., Walter N. Henrietta B. Ridley Student Complex- Room 216
###
---