October is Elizabeth City State University Month
Posted On October 3, 2016
---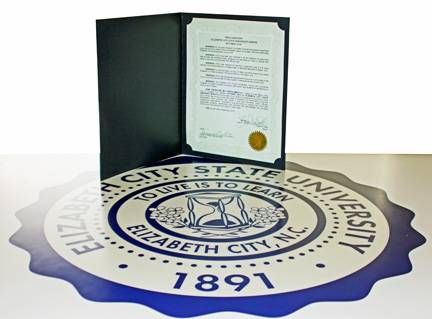 Thanks to an official proclamation last week by the City of Elizabeth City, and Mayor Joe Peel, October is Elizabeth City State University Month and we're celebrating all things Viking.
The proclamation comes at the perfect time since October is also homecoming month, and that means Viking Spirit is set on high.
During the regular meeting of the Elizabeth City Council, Mayor Peel read the declaration, officially making this ECSU Month. The proclamation reads as follows:
WHEREAS for 125 years Elizabeth City State University has played a significant role in the economic health of the northeastern region of our state, and more particularly Elizabeth City and Pasquotank County and
WHEREAS ECSU has been and continues to be an institution of opportunity that provides the necessary hope, guidance and resources for many to pursue their dream of education and the better life it affords and
WHEREAS ECSU has received for the third consecutive year a first place ranking in Washington Monthly's College Guide of "Best Baccalaureate Colleges," and
WHEREAS for the third year in a row, US News and World Report has ranked Elizabeth City State University in the top 20 HBCUs in the nation and
WHEREAS ECSU has dramatically strengthened the economy and quality of life of our community and provided for many a path to independence and success and
WHEREAS the Elizabeth City Council recognizes, honors and commends Elizabeth City State University, its faculty, staff, alumni and students for persevering to fortify its proud legacy.
NOW THERE FORE BE IT PROCLAIMED that I, Joseph W. Peel, Mayor of the City of Elizabeth City declare October 2016 as Elizabeth City State University Month and encourage all our citizens to recognize the profound impact the university has on the success and health of Elizabeth City, Pasquotank County and Northeastern North Carolina and further, I call upon educators, public officials, professional organizations, corporations and all citizens to observe this month with appropriate programs, ceremonies and activities that acknowledge this countless contributions this institution and its alumni have made.
---