Nwala says integrity is essential for accounting majors to succeed
---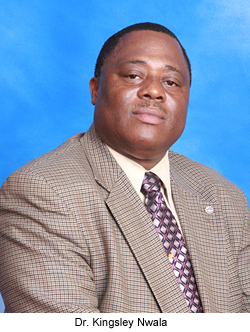 Kesha Williams
March 13, 2012
News reports describing the sluggish economy discourage most of us, but Dr. Kingsley Nwala, an ECSU professor in the Walter R. Davis School of Business and Economics, looks forward to reading and hearing the reports. Nwala, says those reports reveal the economic factors that will have the greatest impact on the future of his students.
&quotI think every college student should enroll in an economics course. In economics classes, students learn the reasons jobs in a certain industry may or may not be available. They learn the reasons prices are sky high for food and gasoline,&quot Nwala explained. &quotPrices for goods and services are sticky and there are specific reasons social programs are being cut, departments are being downsized. So many people, whether in government, the private sector even in academia, are being asked to do more with less.&quot
&quotThere is no better time than now for students to learn about these matters and plan ahead for the future. Students must understand how we as consumers are impacted when we consume more than our income will allow. Consumption, you see, affects daily living decisions.&quot
Nwala is chairperson of the Department of Accounting in the Walter R. Davis School of Business and Economics at ECSU. He currently teaches principles of economics and business and economics statistics courses and has worked at the university 16 years. Nwala and 10 faculty in the department are preparing students for careers in business, accounting and economics. While many students on campus take economics and business courses, there are currently 62 seniors majoring in business and economics. Ten of those seniors are majoring in accounting.
&quotWe have a service based economy so the skills of our graduates are critical to their progress. Employers are certainly looking for graduates who have the right academic preparation, but so much more.&quot
&quotThe person hired must be dependable, coachable, a faster learner, a person with good communication skills and of course your work must be accurate. You must be responsible, ethical,&quot Nwala said. &quotYou must be prepared to work long hours because that is sometimes necessary for employees at accounting firms.&quot
Students are urged to take the kinds of steps now that will improve their chances of finding good jobs. First, internships are recommended so students will have an accurate portrayal of the jobs they are most interested in.
The faculty also recommends membership in business and accounting associations that host national and regional conferences. There, students can participate in stimulating competitions that test their skills to perform in public setting. At these conferences, they make the kinds of presentations most relevant to their chosen careers. The conferences also host job fairs as well as mock interview sessions where students can practice their interviewing skills.
Nwala said the faculty of the department emphasizes the importance of ethics for the students. He reminds them of the many professionals who lost control of their careers after their corporate accounting scandals and greed replaced their integrity.Â
&quotYou must have integrity if you are responsible for managing the customer's money. We are placing more emphasis on ethics these days and we talk about it in student forums, in all business classes. They hear about the importance of ethics at conferences and the Association to Advance Collegiate Schools of Business which provides accreditation for this School of Business wants us to talk about ethics,&quot Nwala said.
In order to best prepare students for the job market, Nwala said the faculty took several proactive steps: a CPA coordinator was appointed to hold seminars that will prepare students for the Certified Public Accounting examination. Forums are held so students can learn about jobs their accounting degrees prepare them for. Professors are expected to maintain adequate professional standards of excellence.
&quotWe have qualified faculty members who are passionate with what they do. We receive thank you cards and some e mail greetings thanking us for the important lessons they learned here.&quot Nwala said. &quotWork options in public sector, federal, state and local government are out there because those agencies need accountants to keep the books, monitor finance revenues and expenses. Even small companies need book keepers.&quot
&quotMy colleagues want our students to succeed, be recognized with awards for their hard work. Most of all, we want them to leave ECSU with a lasting impression that they got the best they can get.&quot
This article is part of a series of features spotlighting the chairpersons of ECSU's academic departments.
---