North Carolina Legislators Appoint New ECSU Trustees
---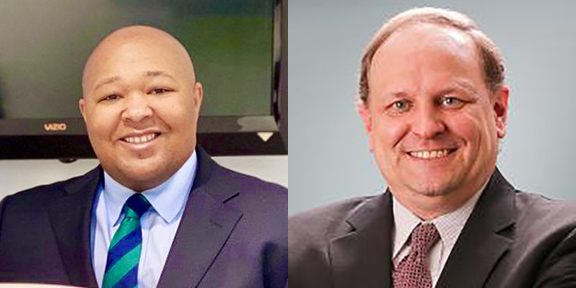 Justin Waddell, left, and James Copland IV are ECSU's newest Board of Trustees members.
Justin Waddell and James Copland IV are the newest Elizabeth City State University Board of Trustees members. The North Carolina General Assembly took action to approve these latest appointments. 
Mr. Waddell is a 2014 graduate of ECSU with a B.S. in Aviation Science. He is currently a technical project manager with Metron Aviation where he oversees the development, deployment, and maintenance of Air Traffic Flow automation systems for domestic and foreign clients.
After graduating from ECSU, Mr. Waddell worked for defense contractor Science Applications International Corporation as a research and development engineer. He has held prominent positions with a wide variety of companies in the years since leaving ECSU.
Mr. Copland is from New Bern, North Carolina where he is the director of legal policy and a senior fellow for the Manhattan Institute for Policy Research. He is a former UNC-Chapel Hill Board of Trustees member.
Mr. Copland has served on boards for many private companies, nonprofits and public boards. He is a founding trustee of the African American Heritage and Culture Center of New Bern.
Mr. Copland has been named to the National Association of Corporate Directors "Directorship 100" list on multiple occasions for individuals most influential over U.S. corporate governance.
He holds a bachelor's degree from UNC-Chapel Hill, a Master of Science Degree from the London School of Economics, and a Juris Doctorate and M.B.A. from Yale University.
---