Nine Students Receive Honors Program Grant Awards
Posted On February 1, 2017
---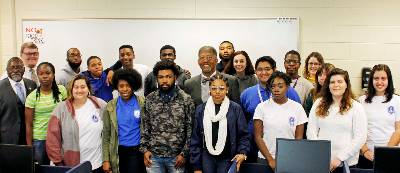 During an Honors Program meeting, with a guest lecture by Elizabeth City State University Chancellor Thomas Conway, nine students were awarded Honors Program grants.
According to ECSU's Director of Financial Aid, Jill Gable, and Honors Program director, Dr. Kenneth E. Jones, there are 29 students currently enrolled in the university Honors Program. In many cases honors students do not qualify for many need-based grants and scholarships available to students, leaving them with higher debt.
The Honors Program grant was created to assist these students in reducing debt. The objective of the grant is to provide a measure of increased incentives and support for enrollment growth of higher academically performing students.
Eligible students are those who participate in the Honors Program, complete the Free Application for Federal Student Aid (FAFSA), and grants and scholarships cannot exceed direct cost of tuition.
Students receive varying amounts, depending upon need. A minimum award is set at $200, and a maximum is set at $4,000. The average for students is $2,000.
Honors Program students who received grants this semester are: Fname Lname, Jerome Jorman, Jr., Kelvin Seabrooks, Narendra Banerjee, Tervon Blount, Mattelyn Bond, Robert Boone, Laquisha Williams, and Zachary Singletary.
---