Nine ECSU students inducted into Who's Who Among Students in American Universities and Colleges
---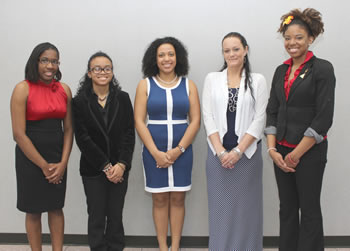 Kesha Williams
April 15, 2014
Elizabeth City State University announces nine students selected for inclusion in Who's Who Among Students in American Universities and Colleges, an exclusive honor conferred by more than 2,842 schools in all 50 states and the District of Columbia. Inductees include Valerie Edwards, Quarda Fobbs, Shaquanisia Gay, Anitra Hill, Tenise Jenkins, Annamarie Lewis, Angela Majors, Alexa Speller and Joan Tant. Standing left to right:
Alexa Speller, from Aulander, N.C.,
Annamarie Lewis from Coram, N.Y.,
Valerie Edwards, from Whiteville, N.C.,
Angela Majors from Longview, TX.,
Tenise Jenkins from Bowie, Md.
Selections to Who's Who Among Students are made each fall by individual schools. Campus nominating committees, created to nominate the upper-classmen and graduate students eligible for the program, are composed of representatives from the faculty, administration and student body. This procedure of nomination succeeds in highlighting the individual and diverse service to community and school. These are the students who enhance the positive image of the American students through their contributions to community and school.
---