Newly Commissioned 2LT Mykah J. Wright to Attend Officer Leadership Training Following Graduation
Posted On December 10, 2021
---
Mykah J. Wright will graduate from ECSU as a Fall 2021 alum with a BS degree in Education. Ms. Wright is also a second lieutenant (2LT) in the Army, and her Commissioning Ceremony was held on Friday, December 10, 2021.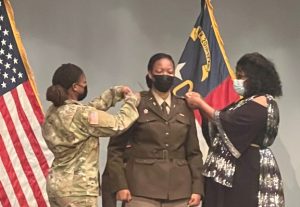 LTC Robert Freeman, ECSU Professor of Military Science, administered 2LT Wright's Oath of Commissioned Officers. Her mother and sister, Cadet Mashayla Wright, pinned the Gold-Bar rank on newly-commissioned 2LT Wright's uniform.
Following graduation, 2LT Wright will attend the Army's Ordnance Corps Basic Officer Leadership Course headquartered in Fort Lee, Virginia. She will learn and execute competencies such as field maintenance, ammunition supply and management, and workload prioritization using automated management systems.
The mission of the U.S. Army Ordnance Corps is to train, educate, and grow Ordnance professionals who drive change. In addition, officers must be able to employ, develop and design DOTMLPF-P solutions to sustain Army readiness, allowing the branch to win in multi-territory combat situations.(DOTMLPF-P stands for Doctrine, Organization, Training, Materiel, Leadership, Personnel, Facilities and Policy.)
During her undergraduate experience at ECSU, 2LT Wright participated in numerous volunteer activities and contributed to the growth of the campus in various ways:
Served as the Senior Class President of the Student Government Association (SGA)
Was a member of the National Council of Negro Women (NCNW)
Shared original poetry pieces and spoke at events around campus
Served as the S4 officer in the Viking Battalion Army SROTC Program
Completed complete Cadet Troop Leader Training (CTLT) in Germany
2LT Wright loves spending time with her family and friends and laughing. Her favorite scripture is John 16:33:
"I have told you these things, so that in Me you may have [perfect] peace. In the world you have tribulation and distress and suffering, but be courageous [be confident, be undaunted, be filled with joy]; I have overcome the world." [My conquest is accomplished, My victory abiding.]"
If you see her with a smile on her face, that is the reason. 2LT Wright was born in Atlanta, GA, and spent her childhood in both Kansas City, KS, and Raleigh, NC.
2LT Wright is the daughter of Trenda Woolridge and Taris Wright. She has one older brother, Malik, and one younger sister, Mashayla.
---