New 'Viking Compass' Webpage Outlines ECSU's Fall 2020 Return to Campus Health and Safety Guidelines
---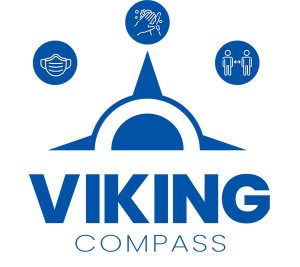 As Elizabeth City State University prepares to return to campus in August, the university has launched a webpage and safety campaign that provides students, faculty and staff with all of the necessary information to stay safe during the COVID-19 pandemic.
Dubbed "Viking Compass," the campaign and website will provide academic calendar information as well as safety measures that include social distancing guidelines, personal hygiene methods, and personal protective equipment (PPE) guidelines.
"The safety and health of our campus community is our number one priority," said Chancellor Karrie G. Dixon. "The Viking Compass campaign is the result of many hours of preparation by staff to prepare the Viking community for a safe return to campus for the fall 2020 semester."
ECSU staff and faculty have been working to make necessary adjustments and modifications to ensure the safety and well-being of the campus community. One of those adjustments is a new academic calendar for fall semester.
The Aug. 11 start date is one week earlier than the original date. Combined with the elimination of fall break and the Labor Day and Veterans Day holidays from the academic calendar, these adjustments will allow the university to end fall semester before Thanksgiving.
Students will have an extended winter break before they return to campus in January for the spring 2021 semester. For employees, the university will observe Labor Day on Dec. 23 and Veterans Day on Dec. 28.
Aside from the adjusted fall 2020 academic calendar, the Viking Compass webpage will include all the information necessary for students to have a successful fall semester, such as:
Community Standards to Protect You: Outlines a set of new campus health and safety guidelines and expectations that will keep all Vikings safe this fall.
Academic Instruction & Related Services: Shares important academic information about the start and end of the fall semester, instruction, and other key related information.
Returning to the Workplace: Provides the university's strategy for campus operations.
Enhanced Campus Cleaning: Describes our commitment to an increased focus on campus cleaning and disinfectant resources Vikings will have at their disposal this fall.
Residential Housing and Dining:Explains the impact to dining operations and gives important information for moving into the residence halls at the beginning of the semester.
Student Experience and Services: Communicates how to access key student services and our strategy for providing an effective student experience this fall.
Self-Health Monitoring, Testing, & Contact Tracing: Illustrates the protocols for self-health monitoring, efforts around university testing, and contact tracing protocols.
Quarantine Procedures: Gives insight into the university's procedures, based on CDC guidelines, if an employee or student experiences a COVID-19 health concern.
The webpage will also feature updates as they are made available. To view the page, go HERE.
In addition to the Viking Compass webpage, informational signs, posters and flyers will be posted throughout the campus, identified by the newly designed Viking Compass logo.
---