New Recruiters and Recruitment Fairs: ECSU is on the Move
Posted On September 27, 2019
---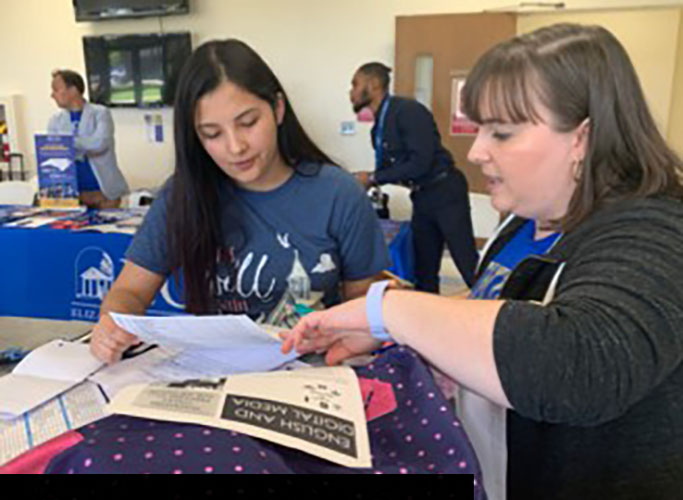 ECSU faculty and staff from the School of Humanities and Social Sciences held the ECSU Recruitment Day Event at Edgecombe Community College in Tarboro Tuesday, Sept. 24.
Recruiting students to Elizabeth City State University is a top priority and efforts to spread the word across North Carolina are on the move, according to a report given to the Board of Trustees by associate vice chancellor for enrollment management, Dr. Althea Riddick.
During the Board of Trustees regular meeting, Tuesday, Sept. 24, Dr. Riddick offered board members an update on efforts to bring new students to ECSU. One area of concentration, she said, is the western portion of the state. Her staff recognized a need to be present in that region and has answered the call.
"As a result we did add on additional, part time recruitment services in the western part of the state," she said in her report to the board.
And while the Board of Trustees was meeting, and Dr. Riddick and her staff was updating them on recruitment efforts, she also had a team of recruiters at Edgecombe Community College. Dr. Riddick told the board that a recruitment team was actively engaging community college students as she spoke.
According to Dr. Sharon Raynor, ECSU's dean of the School of Humanities and Social Sciences, faculty coordinated with Larry Peterman and the office admissions for the ECSU Recruitment Day Event at Edgecombe.
"We wanted to continue the energy and excitement we experienced during the co-admissions and degree program agreement signing back in April," said Dr. Raynor.
ECSU and Edgecombe Community College – located in Tarboro – signed four agreements last April. The agreements are designed to give community college students a clear path to ECSU, whether they transfer to campus, or remain in the Tarboro-Rocky Mount area and complete a degree online.
The agreements highlight criminal justice, business administration, birth-to-kindergarten education, and a co-admission agreement designed to allow students to be admitted to ECSU and Edgecombe simultaneously, and then move to the university upon the completion of their associate's degree.
According to Dr. Raynor, faculty members from English, criminal justice, interdisciplinary studies, homeland security, history, and music were able to meet potential transfer students and early college students. Even a handful of parents, she said, attended the event.
"Students were very interested in the N.C. Promise Program and the possibility of continuing their education at a lower tuition cost," said Dr. Raynor. "Some students received gifts and free football tickets to the Down East Classic this weekend in Rocky Mount."
Dr. Raynor said the event was praised by Edgecombe administrators.
"Edgecombe Community College offers exciting programming for their students that matches very well with our current programs in the School of Humanities and Social Sciences here at ECSU, and we are extremely excited to continue this partnership with them," said Dr. Raynor.
---