New members replace departing ECSU Board of Trustees
---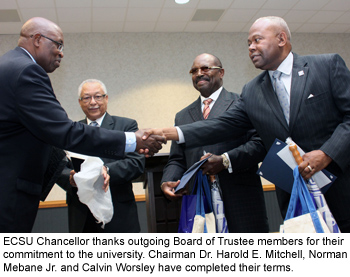 Kesha Williams
June 28, 2011
Three members of the Elizabeth City State University Board of Trustees have completed their terms on the board and are stepping down. They are board Chairman Dr. Harold E. Mitchell, Norman Mebane Jr. and Calvin Worsley.
During the board's June 7 meeting, Chancellor Willie J. Gilchrist thanked them for their years of service, as well as their support of ECSU through attendance of numerous university events. Mitchell, who is a governor's appointee on the board, Mebane and Worsley all have served two terms and been on the board since 2003.
Two alumni now will join the 13-member board to replace those departing — Timothy R. Bellamy, a 1981 ECSU graduate, and Julius Walker, an ECSU graduate of the Class of 1967. A third new member, who is to be appointed by the governor, has not been named.
Bellamy is a former police chief of Greensboro, N.C. He began his career as a patrol officer in 1983 and worked his way up the ranks in various assignments. He was a youth division detective, a vice narcotics detective and was selected as chief in 2007.
Bellamy's awards are numerous and include the Greensboro Police Officer of the Year for 1988 and 1989 and the U.S. Marshals Service Joint Fugitive Task Force Commitment to Service Award. He is a member of Phi Beta Sigma Fraternity Inc. and has been active with the National Forum for Black Public Administrators, the National Association of Black Law Enforcement Executives, Board of Directors for the Salvation Army (Greensboro) and the Rotary Club of Greensboro.
In addition to his bachelor's degree from ECSU, Bellamy earned a master's degree from the University of North Carolina-Greensboro in 2006.
Walker has more than 30 years of experience as an educator.&ampnbsp He retired in 2009 as the superintendent of Washington County (N.C.) Schools, where he served as assistant superintendent of operations from 1996 to 2001.
After serving as a teacher and coach at Washington County Union School from 1967 to 1974, Walker moved into school administration, serving as principal at all levels. He was principal of Creswell Elementary School from 1974 to 1977, principal of Washington County Union School, a middle school, from 1977 to 1988, and principal of Plymouth High School from 1988 to 1996.
In addition to his bachelor's degree from ECSU, Walker earned a master's degree from North Carolina Central University (1974), an educational specialist master's degree from East Carolina University (1980) and an honorary doctorate from Urban Bible Institute in Detroit in 1995.
Walker has served with numerous civic organizations, including the Martin/Washington/Tyrell Counties Smart Start Board, Washington County Planning Board, the Juvenile Crime Prevention Council and the NAACP (Washington County).&ampnbsp He also served as a member of the ECSU Board of Visitors, the ECSU Viking Varsity Club and the National Alumni Association (ECSU), where he is a lifetime member and a former member of the board of directors. Walker is a member of Kappa Alpha Psi Fraternity Inc.
Bellamy and Walker will take the oath of office at the board's quarterly meeting in September.
---