New members inducted into Sigma Tau Delta
---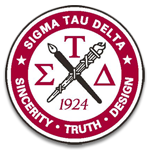 Kesha Williams
May 07, 2013
Five students at Elizabeth City State University were recently induced into the Iota Nu chapter of Sigma Tau Delta International English Honor Society:
Tesia Worsley Bynum, a senior from Tarboro, N.C., who is majoring in English.
Valerie M. Edwards, a senior from Whiteville, N.C., who is majoring in Mass Communications and Aviation Science. Her minor is public administration.
Chanel L. McClennahan, a senior from Laurinburg, N.C., who is majoring in English. She has two minors: secondary education and mass communications.
Simone Saunders, a senior from Charlotte, N.C., who is majoring in Communication Studies.
Shelby Thomas, a senior from Moyock, N.C., who is majoring in special education whose minor is English.
Sigma Tau Delta is an International English Honor Society with more than 800 chapters in the United States, Europe, the Middle East and the Caribbean. A member of the Association of College Honor Societies, the organization was founded in1924 at Dakota Wesleyan University. The society strives to confer distinction for high achievement in English language and literature in undergraduate, graduate, and professional studies
provide, through its local chapters, cultural stimulation on college campuses and promote interest in literature and the English language in surrounding communities
foster all aspects of the discipline of English, including literature, language and writing
promote exemplary character and good fellowship among its members
exhibit high standards of academic excellence
serve society by fostering literacy.
Jeanette Morris, a lecturer in the Department of Language, Literature and Communication is the advisor for this chapter.
---