New Lighting Increases Campus Pedestrian Safety
---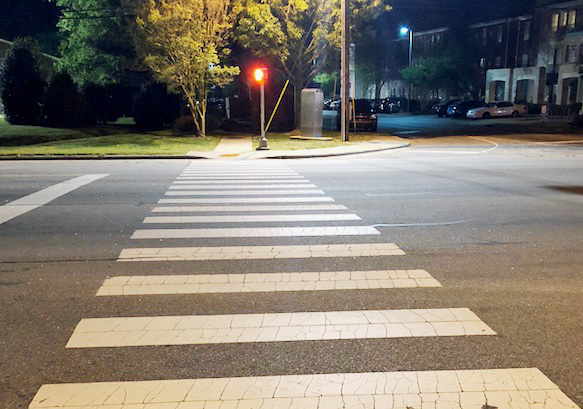 The City of Elizabeth City recently installed a new night light in the crosswalk at the intersection of Halstead Boulevard and Herrington Road to enhance safe crossing for pedestrians. More safety measures are being investigated over the next 60 days.
In an effort to increase pedestrian safety for students and the public, the City of Elizabeth City, in cooperation with Elizabeth City State University, has installed new lighting at the intersection of Halstead Boulevard and Herrington Road.
University officials have been in ongoing conversations with Elizabeth City officials about the intersection. And after a recent meeting, which included representatives from the North Carolina Department of Transportation, the city agreed to take the first step toward a safer intersection. But more studies and potentially more action are on the way, according to Russ Haddad, special assistant to the chancellor.
"We're grateful to the city, and to City Manager Rich Olson, for their quick response to this important matter," said Haddad.
Haddad, who was part of a team of ECSU officials to meet with the city, said the University has been looking for ways to ensure that pedestrians crossing from Viking Village to the ECSU campus are safe, especially at night when visibility at the intersection is lower. The new lighting at the intersection will assist drivers in spotting pedestrians walking through the crosswalk.
Haddad said the next step is for NCDOT to conduct a traffic study at the intersection over the next 60 days. One component of the study, he said, to determine the feasibility of a sidewalk extending from Viking Village to the Food Lion plaza, as well as the possibility of a pedestrian crossing light by Hoffer Plaza.
"Our number one goal is the safety of our students," said Elizabeth City State University Police Chief John Manley. "This is a step in the right direction."
ECSU officials are also at looking for options such as reduced speeds, signage of school/crossing, and light signals in advance of the intersection. All of these options would alert approaching drivers of the intersection.
In addition, speed reduction at locations of schools is essential for pedestrian safety.
---