ECSU's New Veterans Center Office Officially Opens
Posted On December 4, 2018
---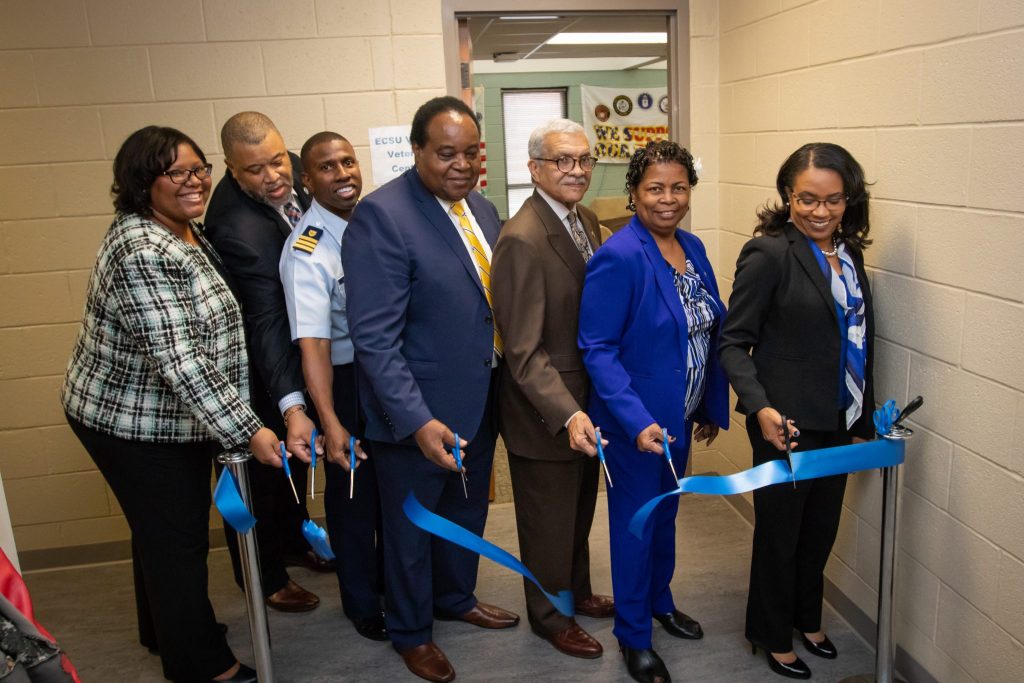 The official ribbon cutting ceremony for ECSU's expanded Veterans Center included, left to right, Dr. Farrah Ward, Tim Freeman, Cmdr. Warren Judge, Harold Barnes, William Webb, Mayor Bette Parker, and Dr. Karrie Dixon.
Elizabeth City State University's Military and Veterans Affairs Center's new home on campus is officially open.
During a ribbon cutting ceremony at Griffin Hall Tuesday, Dec. 4, Interim Chancellor Karrie Dixon and a roster of dignitaries celebrated the opening of the center's new, and larger, home. According to ECSU Veteran Center director Tim Freeman, the new home is an indication that the program is growing.
"I came here three years ago to make sure veterans get what they came here for, a degree," Freeman told the crowd of more than 30 people.
Voted Best of the Best by U.S. Veterans Magazine, ECSU has offered veteran military services for some time now, and while a space has existed for the program, Freeman says this is the first truly dedicated office.
The ceremony included remarks from a number officials, including University of North Carolina Board of Governors chair of military and veterans affairs committee, William Webb.
"This is the beginning of what I thought as a veteran should happen on every campus," Webb said.
ECSU Board of Trustees chairman, Harold Barnes, echoed Webb's sentiment, adding that as a veteran of the Vietnam era, having a facility such as this is paramount to the future of the men and women who serve in the armed forces.
"I thank God for this opportunity to expand what we are doing for our veterans," said Barnes. "It is heartening when they return they can receive the service they deserve."
Freeman says the office is a space for military and veteran students, and their dependents, to not only find assistance on campus, but also veterans affairs guidance. A representative from the Department of Veterans Affairs in Norfolk, Virginia, frequently comes to campus to work with students, and with members of the military based in the area.
Recently, said Freeman, a representative from the Norfolk office was able to come to campus and meet with two members of the Coast Guard who are poised to retire. The meeting was to guide them through the retirement process, but it also served as an introduction to the ECSU campus in the event those service members choose to stay and enroll as students.
Through a partnership with the Coast Guard, Freeman says ECSU is able to provide service members with services through the campus office. An ECSU military affairs committee, he said, is providing guidance to the program, ensuring that appropriate services are offered to students and outside military members, and veterans.
The new ECSU Veterans Center is outfitted with a lounge, a television, and with four new computers, giving students a place to relax, study and seek military and university related services and guidance, says Freeman.
Freeman says as the program and its needs continue to grow, the center office will continue to grow, and possibly seek an even larger space. For now, however, being situated in the Griffin Building, home to ECSU's Office of Student Affairs, the Veterans Center offers a well-appointed facility to serve the men and women who have served their country.
---