New drone operations laboratory is nearly complete
Posted On January 26, 2016
---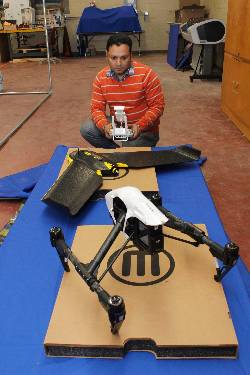 By Kesha Williams
ECSU faculty say their new drone operations technology laboratory is nearly complete. Last month, a new Sensefly eBee Ag, a small and highly sophisticated unmanned aerial vehicle designed for agriculture applications, arrived and others are expected to arrive by the end of the month. The Department of Technology and its Aviation Science program are setting up the first of its kind, university drone operations laboratory.
This Unmanned Aerial Systems (UAS, or "drone") program at ECSU will train drone operators and entrepreneurs, and it will focus on agricultural applications of drone technology. It is slated for a fall 2016 launch and will be offered as a specialization track under the Aviation Science degree program.
"We are preparing students with the skills they will need as the UAS industry continues to expand," said Kuldeep Rawat, the Department of Technology Chair and Director of Aviation Science program at ECSU.
Thanks to a 2015 grant from the GoldenLEAF Foundation, the ECSU Technology Department began developing a UAS program track within the Aviation Science program. Additional funding was provided through a Department of Education grant. The Aviation Science program will offer students up to five courses where these unmanned aircraft will be used for instruction. ECSU faculty collaborated with North Carolina State University's mechanical and aerospace engineering faculty to develop the curriculum. Administrators at Sampson Community College, in Clinton, N.C., have expressed interest in this developing program with hopes that their students can take certificate courses in the future.
"The development of these courses is not only significant for ECSU students, but our relationship with state institutions who are interested in developing similar programs or use of these aircraft in their programs," Rawat said.
---