New building named in honor of the Gilchrists: Willie and Jacqueline Gilchrist Education and Psychology Complex
---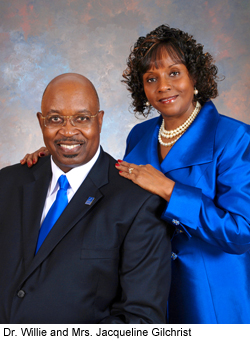 Kesha Williams
June 14, 2011
Elizabeth City State University announces the name of the newest structure for instruction on campus– the Willie and Jacqueline Gilchrist Education and Psychology Complex. The building, which is located on the southeast corner of the campus near Weeksville Road, is named in honor of the current chancellor and his wife, both graduates of ECSU.
The three story, 47,991 square foot building will contain 53 faculty offices, including the Dean's suite, education and psychology chairs and endowed chair offices, two faculty lounges, three conference rooms, 15 classrooms and laboratories as well as a curriculum resource center. All exterior doors and office suite entrance doors will be operated by a key card system. All classrooms will be constructed to support full audio visual conferencing and they will have audio visual display capabilities.&ampnbsp Each classroom will be equipped with wall mounted phones for emergency use. Four LCD monitors will be placed in the building— two will be posted on the first floor while one will be posted on the second and third floor, to display general student information and emergency messages. The scheduled completion date for the building is December 2, 2011. The date of the grand opening is pending. The name of the building was approved at the March 8, 2011 meeting of the ECSU Board of Trustees.
Mrs. Gilchrist has over 34 years of experience as an educator. Her past positions include the reading coach for Halifax County (N.C.) schools, a teacher in Scotland Neck, N.C., an educator in the Weldon City Schools (N.C.) and a teacher in the Rochester, N.Y. schools. Mrs. Gilchrist earned her undergraduate degree from ECSU, her master's degree from Central Michigan University as well as elementary education certification from Brockport State University and a math certification from North Carolina Central University. She is a member of Zeta Phi Beta Sorority and she volunteered with the Elizabeth City Pasquotank County Tourism Development Authority. Currently she volunteers with the Arts of the Albemarle Board, Mr. &ampamp Miss ECSU Advisory Board, ECSU First Lady Academy, the ECSU Founder's Day Committee. She and Chancellor Gilchrist are the parents of two adult sons, one adult daughter and the grandparents of five youths and youngsters.
Chancellor Gilchrist is the ninth chief executive officer of Elizabeth City State University who was appointed chancellor on March 15, 2007. Prior to this appointment, he served as interim chancellor of ECSU. Gilchrist's extensive background as an educator and administrator spans over 30 years. His experience includes posts as a teacher and counselor in the Rochester, NY public schools, an assistant principal (Eastside School in Jackson, N.C.), principal (Northampton County High School-West in Gaston, N.C.), associate superintendent (Northampton County) and superintendent of schools (Halifax County Schools). Gilchrist has won numerous awards and recognitions for his work and community service.
Chancellor Gilchrist holds an undergraduate degree in health and physical education from ECSU (1973), a master's degree in administration from Brockport State University in New York (1975), and a doctorate of education in administration from Nova Southeastern University in Florida (1998). He has also completed additional graduate work at Virginia Polytechnic Institute. He is a member of Phi Beta Sigma fraternity.
---