New aviation science laboratory opens
---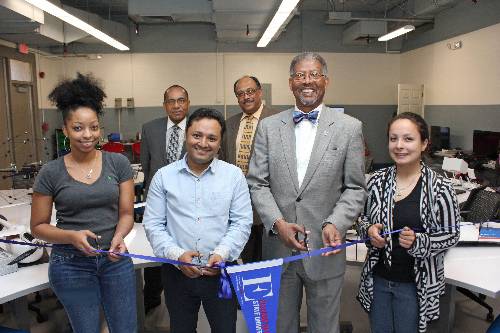 By Kesha Williams
Elizabeth City State University Aviation Science students, staff and faculty celebrated the opening of a new, two-sector, aviation laboratory in McDonald Dixon and Bishop M. Patterson Hall. One side of the room is a NASA Aerospace Education laboratory (AEL) while the other is an Unmanned Aerial Systems (UAS) laboratory. This laboratory resulted from funding ECSU received from NASA (2015) and the Golden LEAF Foundation (2014) for enhancing Aerospace/Aviation Science education in the northeast North Carolina region. Additional funding was provided by a Department of Education-SAFRA grant.
The NASA AEL sector houses multiple desktop flight simulator stations, renewable energy station (solar panels, wind turbines) , hand-held data loggers, aircraft/rocket design stations, wind tunnel, flow-visualization tunnel, weather stations, 3D printers, mobile robotic stations (ground and aerial), and experimental setups to cover various course topics related to STEM education.
"The new NASA AEL and UAS Lab marks another important step for ECSU's Aviation Science program in bringing the most advanced K-12 STEM education and UAS training capabilities to the NENC region," says Kuldeep Rawat, Technology Department Chair and Site Director of NASA Aerospace Academy program at ECSU. Over the course of three months, the former Machine Shop Technology lab has been rehabilitated into a bright, spacious, and clean laboratory, ideal for hands on STEM learning, both at K-12 level and college.
The Unmanned Aerial Systems sector of the laboratory currently houses DJI Phantom Vision 2+, DJI Inspire 1, DragonFlyer X-4, senseFly eXom, senseFly eBee Ag, Robo Flight 70, Aeromapper EV2, and QBall-X4, an aerial vehicle platform for advanced research.
In addition to conducting Unmanned Aerial Systems (UAS) applications research for private and public partners, the new laboratory will support five new UAS courses within the university's Aviation Science program. Courses include: Introduction to Unmanned Aerial Systems UAS and NAS: Laws and Regulations UAS Sensors and Payload UAS Lab 1: Design and Construction and, UAS Lab 2: Applications.
The UAS option gives graduates the expertise they need for employment as operators, observers, sensor operators, and operations managers of unmanned aircraft systems. Skills covered in these courses will include flight planning, mission execution, data management and analysis, sensor and payload integration, and an overview of national airspace system restrictions and rules. Students may also be given the chance to build and fly their own aerial vehicle.
"We are also developing UAS-themed outreach programs for middle and high school students in conjunction with the NASA Aerospace Academy program," said Rawat. Over 600 K-12 northeast North Carolina students will be directly impacted through 40 hours of STEM learning activities available at the AEL sector of the laboratory and many more through year round informal educational activities.
ECSU aviation major and retired USCG C-130 navigator/ former U.S. Navy UAS Mission Pilot, Aron Bechiom, who assisted Rawat adds, "The state-of-the-art lab facility will provide students and professionals with the basic skills and knowledge needed to achieve FAA certification and operate small unmanned aircraft systems safely and effectively in performing civilian missions and commercial operations."
---