New Alumni Relations Director Has Passion for His Alma Mater
Posted On October 2, 2018
---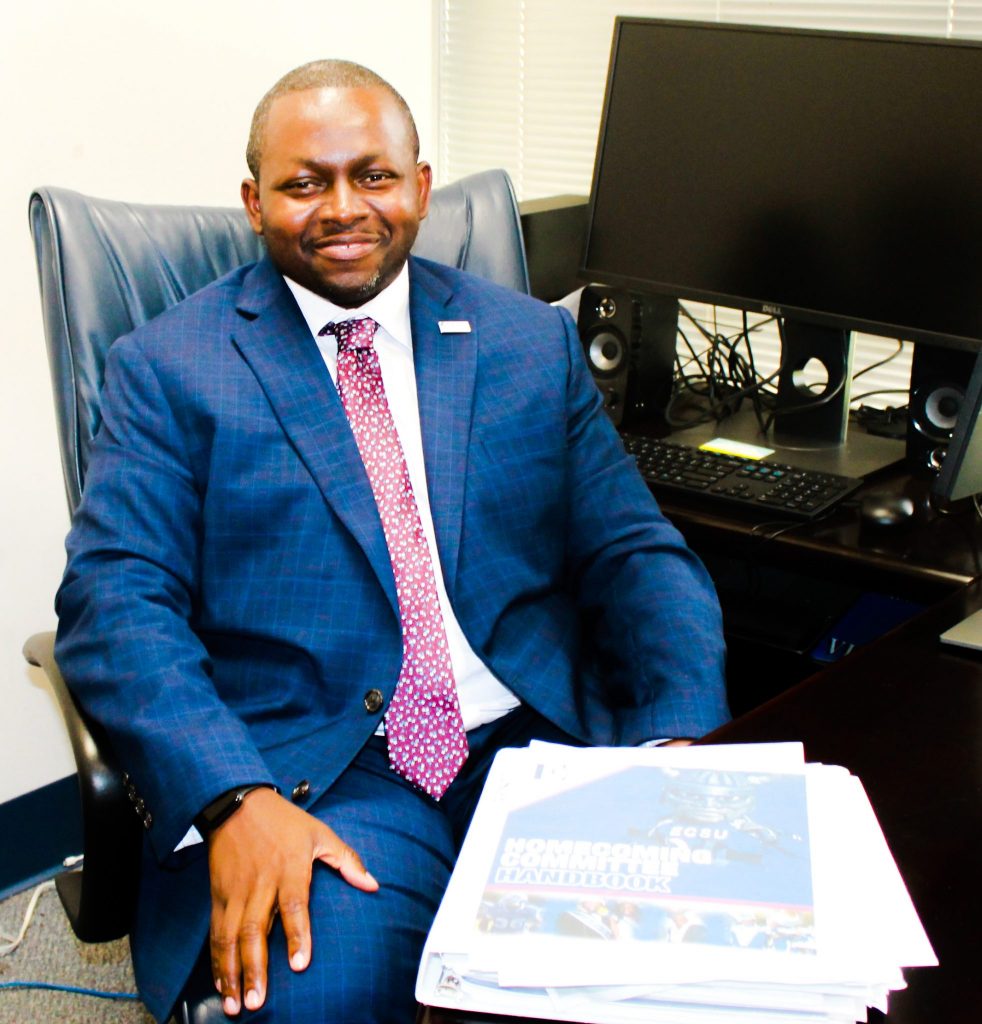 This is Enoch Bond's busy season. Elizabeth City State University's new director of alumni relations is preparing for Homecoming 2018, and he couldn't be more excited about it.
"This is my busiest time," said Bond, a 2004 ECSU graduate. "There are a number of activities to welcome them (alumni) home."
Home is where Bond is after years working at North Carolina Central University. The Edenton native says he's grateful for his years at Central, but coming home is the best thing that could happen to him.
Bond grew up in Edenton where he says his Kindergarten teacher took time to introduce him to ECSU by taking him to his first Viking football game. He recalled that she told him ECSU is a family-oriented school and she encouraged him to enroll at the Elizabeth City campus.
Bond majored in history with the thought of becoming a museum curator, or perhaps a history professor. But time working in the ECSU alumni relations office as a student changed that for him.
It was while he was a student that Bond developed his passion for alumni relations. He began by not only working in the campus office, but also serving as president for the Pre-Alumni Club where his first project was the Viking Family Reunion.
"An opportunity for students and alumni to get together," he said of the reunion event.
After graduation, Bond went on to work in the ECSU alumni relations office before moving to Central as that university's alumni coordinator. He would become Central's director of alumni giving and then the alumni director for its law school before returning to ECSU.
All of that experience comes to bear here, at home, for Bond. He says he is the welcoming committee for the largest group of ECSU advocates, giving them the information they not only need in order to know what's happening on campus, but also how to best support their alma mater.
"I always tell people that the current status of your institution will determine the value of your degree," he said.
Bond says he puts his focus on promoting the "three Ts."
"I believe good alumni are graduates who give time, talent and treasure," he said.
Bond's goal is to encourage all three Ts, and hopes that at least one of the Ts will be shared by Viking alumni.
In the meantime, Homecoming 2018 kicks off the week of Oct. 22 culminating with the big game against Virginia Union University on Saturday, Oct. 27. In between, Bond says there are seven alumni-specific events he's planning, and plenty of Viking Spirit to make it a success.
For more homecoming information checkout the Vikings Unleashed website.
---