NC Legislative Black Caucus' First Town Hall Meeting of the Year
Posted On October 16, 2009
---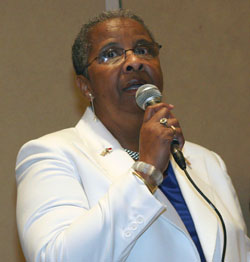 Kesha Williams
October 16, 2009
Raleigh, NC – The North Carolina Legislative Black Caucus will hold its first 2009 Town Hall Meeting in Elizabeth City, North Carolina. Members will travel from all over the state to take part in this event being hosted by Elizabeth City State University (ECSU) and its Chancellor, Dr. Willie J. Gilchrist.
The Town Hall Meeting will be held over a two-day period. The first forum is scheduled for Thursday, October 29 at 5:30 – 7 p.m. at the K. E. White Graduate Center and it is free and open to the public. Topics of discussion will include Stimulus Funds, Weatherization, Voter Registration, Mental Health and Justice and Public Safety.
On Friday morning, October 30, 2009 at 10 a.m., there will be a Town Hall Meeting for ECSU's students ONLY. Topics will include housing, parking – student concerns.
Both meetings will be held on the campus of Elizabeth City State University, 1704 Weeksville Road, Elizabeth City, North Carolina 27909.
Should you have questions or need additional information, please contact the office of Representative Annie W. Mobley.
For More Information, Contact:
Representative Annie W. Mobley
638 LOB, Raleigh, NC 27603-5925
(919) 733-5780 mobleyla@ncleg.net
---