Navy Veteran Focuses on Completing Aviation Sciences Degree Early
Posted On December 8, 2022
---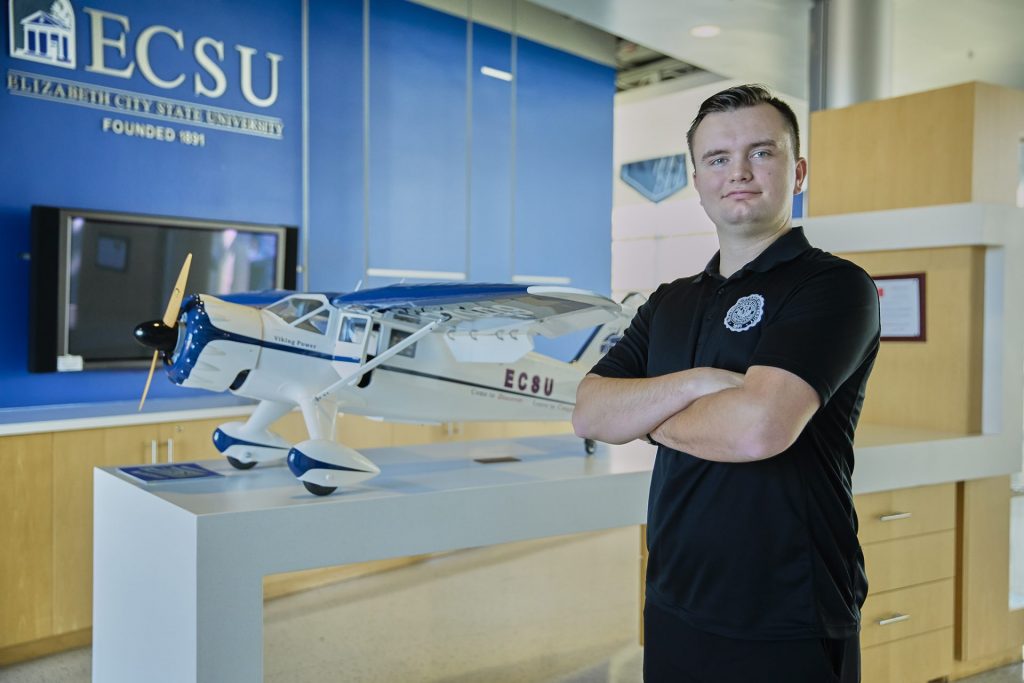 Dawson Campbell
Aviation Sciences Major, Concentration Aviation Management; Minor, Business Administration
Hometown: Saskatchewan, Canada 
Dawson Campbell was born in the province of Saskatchewan, Canada, and moved to the United States as a child with his family. Years later, he enlisted and served four years in the United States Navy and was stationed in Norfolk, Virginia. 
"I saw Elizabeth City State University had an Aviation Sciences degree program, applied and began in fall 2019," Campbell says. "I've had a great experience and was afforded the opportunity to receive awards from the North Carolina Airport Association."  
Campbell is thankful for Robin Mangham, ECSU Aviation Program Coordinator / Lecturer, Aviation and Emergency Management, whose assistance he described as instrumental in helping him transition from the military into a collegiate environment.  
Mangham states, "Mr. Campbell joined our program as a freshman following his enlistment in the Navy. He rapidly immersed himself in the college experience and became a peer leader by joining our Women in Aviation International Chapter and developed a strong relationship with the Southeast Chapter of the American Association of Airport Executives. Through that relationship, he received a scholarship and a funded visit to their conference. Mr. Campbell was a model student who consistently excelled academically." 
Campbell stacked his credit hours during his last semester and took 21 hours so he could finish early and graduate in December 2022—and he will, earning a Bachelor of Science degree in Aviation Science, with a concentration in Aviation Management, and a minor in Business Administration. 
Up next? "One of my goals is to start an Unmanned Aircraft Systems (UAS) LLC that provides drone services to areas throughout North Carolina. I am working on the process now, and am testing for the Remote Pilot Certificate this month. I also have a student pilot license." To help with his career pursuit, Campbell took economics and business law classes, and is grateful for his professors who provided him with guidance and mentorship.  
Currently, he works at Atlantic Autism Services of North Carolina in Elizabeth City as a registered behavior technician. "I have a passion for helping people and also serve as a volunteer firefighter with the South Mills Volunteer Fire Department in Camden County." 
"ECSU has been an amazing support system—the professors have been ready and willing to help with both my classes and seeking out career opportunities," says Campbell.  
---