Naval Commander Aviator Part of Distinguished Lecture Series
---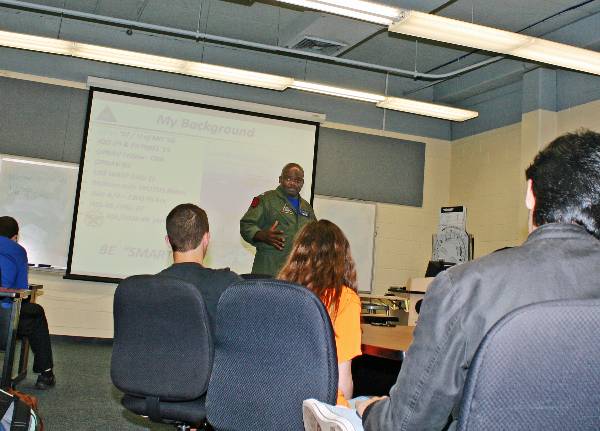 Students in the Elizabeth City State University aviation program and NEAAAT high school students sat down Tuesday April 4 to learn about Naval aviation and some simple life lessons.
United States Navy aviator Cmdr. Bobby Brown was on campus as a part of the Undergraduate Research Week 2017 happenings. Brown who flies under the call sign "Downtown" met with faculty toured the campus and aviation labs and explained to students that whether they become aviators or choose another career path there are simple life lessons to be learned first.
He was a part of ECSU's Distinguished Lecture Series hosted by Prof. Orestes Goodson a retired naval commander and aviator.
After introducing himself with an action-packed video displaying the adrenalin rushing power of naval aviation Brown challenged the students with one question: "What do you want to do?" The answers varied from mortician to psychologist to aviator. But regardless of the answers Brown put another question to students: "How are you going to get there?"
"Life will happen so what is going to keep you on track?"
Brown entreated the students to move outside of their comfort zones and explore the opportunities available to them. Network and ask questions he said.
Brown a helicopter pilot is currently the Navy's director of diversity and inclusion based in San Diego California. A native of Mobile Alabama Brown is a 1997 graduate of the United States Naval Academy.
In 2010 he served as the Navy's Military Aid to Vice President Joe Biden. He is a combat veteran and also holds a Master's of Science degree in technology management from the University of Maryland University College with a resource management and analysis sub-specialty.
---