National Science Foundation Program Director Speaks to ECSU about Major Research Funding Initiatives
Posted On November 16, 2020
---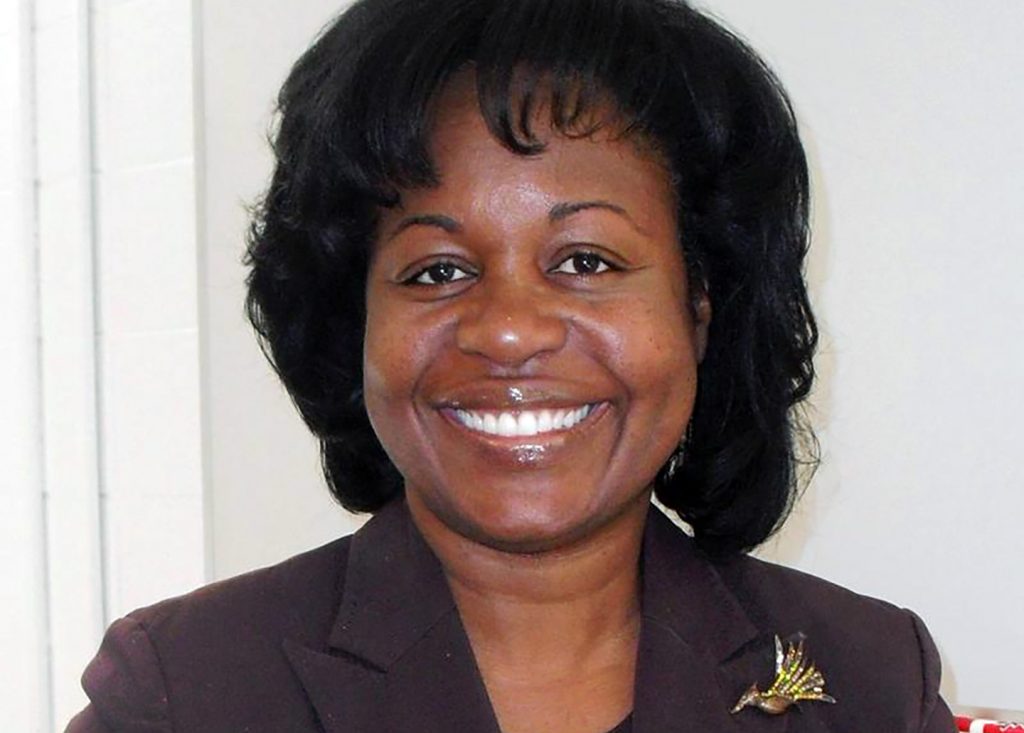 Dr. Michelle Claville
The National Science Foundation is an integral part of a university's funding for major research, giving institutions such as Elizabeth City State University the ability to pursue funding for faculty and student programs. A recent presentation by Dr. Michelle Claville to ECSU faculty and staff highlighted this fact and provided important information for the future of NSF grant funding, according to Annemarie Delgado, director of the university's Office of Sponsored Programs. 
Dr. Claville, assistant dean of the School of Science and chemistry professor at Hampton University, is the NSF program director and is ECSU's liaison to several NSF grant programs. Ms. Delgado said her presentation and her work with Historically Black Colleges and Universities such as ECSU are part of the NSF's strong HBCU outreach initiative. ECSU's STEM faculty have been very successful in garnering prestigious awards for innovative programs that provide support to our students, upgrades to our research labs, acquisition of equipment and collaborative research opportunities.
The virtual meeting was attended by 30 ECSU faculty and staff, said Ms. Delgado. "The fact that the NSF is willing to give updates to our faculty and staff is important," she said. "She shared information about NSF policy and procedures and upcoming programs and deadlines."
Dr. Claville works with the NSF's HBCU-UP (Undergraduate Programs) and the HBCU-EiR (Excellence in Research) programs and the Louis Stokes Alliances for Minority Participation (LSAMP). Her efforts provide HBCUs a direct pipeline to funding and subsequently an expansion of research programs on campus.
ECSU currently has ten active grants with the NSF.
The Materials Research group at ECSU received a $400,000 grant from the NSF. According to ECSU professor, Dr. Victor Adedeji, the grant will help with the development of new oxide material for specialized microelectronic device applications. The material has the potential to create a more efficient solar cell for converting sunlight to electricity.
Dr. Kenneth Jones, principal investigator, was awarded a $649,566 grant. The grant provides scholarships to 20 rural, low-income, academically talented students. These ECSU students will be undergraduates majoring in biology or mathematics. Co-principal investigators include Dr. Gloria Payne and Dr. Roberto Frontera-Sua.
Dr. Gloria Payne, Interim Associate Vice Chancellor for Academic Affairs, was awarded $2,249,515 from the National Science Foundation for a project titled "The Vikings Enhancing STEM Innovation and Collaboration (VESTEMic) Model." This project aims to increase the number of students pursuing STEM degrees, enhance the quality of their preparation, and increase access to graduate education and the workforce. Co-principal investigators include Dr. Kuldeep Rawat and Dr. Derrick Wilkins.
ECSU was awarded nearly $400,000 to advance the education of biology majors studying plant sciences. Dr. Margaret Young and Interim Associate Vice Chancellor for Academic Affairs Dr. Gloria Payne collaborated on this NSF HBCU-UP grant. The purpose of the grant, titled "Targeted Infusion: STEM: Pipeline for Plant Sciences," is to impact learning strategies such as Course-based Undergraduate Research Experiences.
Thanks to an award from the HBCU-UP Program, ECSU students will join biology professor Dr. Eyualem Abebe on a two-year research project exploring microbial diversity and their ecological role in the coastal environment. A $169,700 award will fund the two-year project that, according to Dr. Abebe, will examine the genetic make-up of the microbiome in individual nematodes and bacteria.
The NSF awarded a $176,828 grant for Major Research Instrumentation (MRI) to purchase equipment for research and the education of students enrolled in the field of science, technology, engineering, and mathematics, or STEM. The research focuses on applied nanomaterials science and clean energy storage systems.
The National Science Foundation awarded ECSU $143,822 for Dr. Anthony Emekalam's pilot project, "Intentionally Delivered Effective Accommodation, or IDEA." The research focuses on increasing student retention and graduation rates in STEM studies.
ECSUreceived a $1.2 million NSF NOYCE grant to train science teachers. According to ECSU professor and the grant's principal investigator, Dr. Timothy Goodale, the award will fund a program that produces qualified secondary science teachers that are better equipped to teach topics such as climate change and evolution.
Dr. Linda Hayden has received NSF grant funding in the amount of $1,478,750 from a collaboration with the University of California, San Diego. The grant, titled "The Science Gateways Community Initiative (SCGI) for the Democratization and Acceleration of Science" supports and facilitates the sustained creation and operation of science gateways. The grant supports and enhances science and engineering workflows for a community of researchers and students.
ECSU has also served as a long-standing partner with the University of Virginia on an NSF LSAMP grant. Since the grant's inception, Dr. Ali Khan, principal investigator,has been awarded approximately $1,200,000 for ECSU's participation in the grant titled "The Virginia-North Carolina Louis Stokes Alliance for Minority Participation (LSAMP)." This initiative has strengthened and encouraged recruitment, retention, and graduation rates of underrepresented students in STEM disciplines.
---