Music Professor Douglas A. Jackson Releases Second EP
---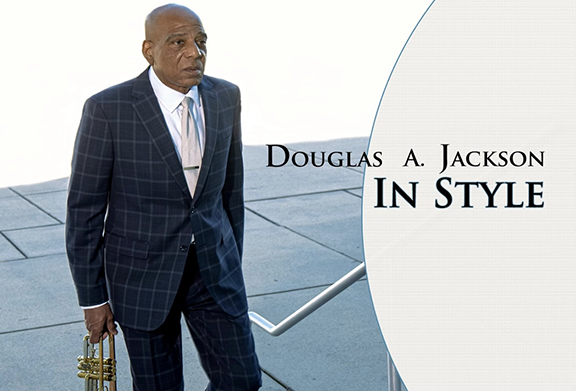 A South American mambo, an Afro-Cuban rhythm, the blending of traditional Asian melodies with a jazz trumpet, and even a little Reggae blended into an EP by Elizabeth City State University music professor Douglas A. Jackson comprise his second album release, "In Style." Mr. Jackson will celebrate his latest project with a release party at Arts of the Albemarle in Elizabeth City Thursday, May 27 at 7 p.m.
Although it's easy to label Mr. Jackson's music as simply jazz, the trumpeter says "In Style" is a global journey in music and he identifies his style as world music. Growing up in Los Angeles, he was surrounded by many international musical influences.
"I refer to myself more as a world musician," he said.
He says, "In Style" encompasses "sounds and colors from around the world." His music includes Asian and Spanish themes, some R&B, and folds in live sessions with musicians.
The project began back in 2001 as a final master's thesis. Since then, the tracks have been digitized to create his second EP in less than a year.
Last summer, Mr. Jackson released "Night Moves," a compilation of original jazz and world beats. Like "In Style," that album brought together influences from around the world.
The "Night Moves" release was not only an opportunity for Mr. Jackson to release his own music, it was also a chance to teach his ECSU students through his own experience. It wasn't until he realized that he needed to give the digital publishing experience to his own students that he decided to pursue a venue to publish the album. 
That venue, Centroplex Records, belongs to his brother David Jackson and has given the musician/ professor the opportunity to share his sound with the world, and his students.
That Mr. Jackson has collaborated with his younger brother to produce these EPs is no surprise. Growing up in Los Angeles, his brother played the drums, his sister played the cello while their mother played the piano. 
He would also begin his musical journey outside the home, in grade school, playing for the orchestra. Mr. Jackson would eventually go on to work in the music industry on the business side before earning his master's degree and becoming a professor of music.
As a university professor, Mr. Jackson has brought a love of jazz and music overall to his students. He is responsible for ECSU's annual Jazz Fest, bringing world-class musicians such as Wynton Marsalis to Elizabeth City for workshops and performances.
While producing these EPs puts his own music out into the world, Mr. Jackson says the effort doesn't comprise a "vanity project." Rather, he sees this as a faculty development project aimed at not only producing music, but also lending his experience to students and the future of music production.
Regardless of the motivation behind his recordings, Mr. Jackson is producing classic sounds, celebrating music's unique global influence. And in the process, he's developing a fan base.
His CDs are available HERE at Centroplex Records, or through digital platforms such as Spotify, iTunes, Amazon Music, Apple Music, or YouTube. To meet Mr. Jackson and learn more about his music, check out his release party at Arts of the Albemarle, located at 611 West Main St., in downtown Elizabeth City, Thursday, 7 p.m. to 8 p.m.
---