Music Educators Are All About Jazz at Arts of the Albemarle
---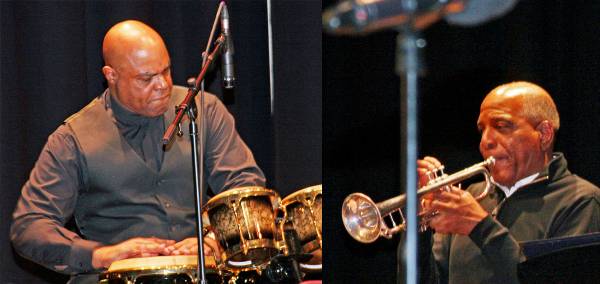 Ever since Arts of the Albemarle's Third Thursday Jazz Series launched in 2016 the region has been flocking to the downtown Elizabeth City art center to hear the classic American music. Performers have ranged from regional musicians to Elizabeth City State University alumni and now two of its professors.
Music teachers from area schools including ECSU will perform together this week (Thursday April 20) for the Third Thursday Jazz Series. Music professors Douglas Jackson trumpet and Ellard Forester drums will join the region's public school music directors for the free evening of jazz.
Jackson has been a longtime collaborator with Arts of the Albemarle and he is one of the organizers of the popular downtown event.
&quotThis is a collaboration with the local music educators to celebrate Jazz Appreciation Month and to highlight the local music educators' contributions to the community&quot said Jackson.
Jackson says the ensemble of educators will perform jazz standards fusion and pop. Selections will include the 1939 jazz standard &quotIn a Mellow Tone&quot composed by Duke Ellington &quotSugar&quot composed by jazz saxophonist Stanley Turrentine. Other songs in the lineup include &quotBlue Monk&quot by Thelonius Monk &quotCool Duck Time&quot by Eddie Harris and &quotFeel Like Makin Love&quot by Eugene McDaniels.
Other members of the educator ensemble include Lee Burgess II alto saxophone – Currituck County High School Band director Dennis Figgs piano – J.C Sawyer Elementary music teacher Ryan Minster trombone – Perquimans County High School band director Pat Koppenhaver bass – Currituck Middle School band director John Russell mallets – Pasquotank County High School band director Chris Whitehurst guitar – Camden County High School band director.
The concert is free and open to the public. It happens at Arts of the Albemarle located at 516 E. Main St. in downtown Elizabeth City. The show starts at 5:30 p.m. and runs until 7 p.m. Thursday April 20.
---