Music Department Opens New Music Theory Laboratory
Posted On August 30, 2010
---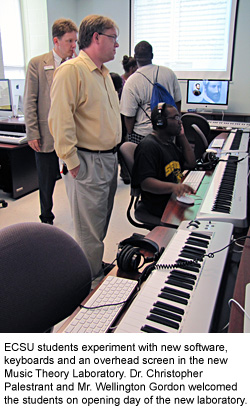 Dr. Christopher Palestrant
August 30, 2010
The Elizabeth City State University Department of Music opened a new Music Theory Laboratory&ampnbsp that features eleven, 27-inch iMac computers and full size MIDI-keyboards for musical notation software.&ampnbsp With its new overhead projector and screen, the lab will also be used to teach upper level courses in sound engineering.&ampnbsp Dr. Christopher Palestrant, an associate professor in the ECSU Music Department, coordinates the curricula in Music Composition, Theory and Ear Training courses for the department. He is excited about the new arrivals.
&quotOur computers had become outdated and couldn't run recent releases of any of our software,&quot said Dr.&ampnbsp Palestrant.&ampnbsp
&quotWith these new stations, students will be able to write music, print it out with publisher-ready layout, and even hear almost exactly what it will sound like when performed by real musicians.&quot&ampnbsp
Students taking the music theory sequence, which is required of all music majors, are assigned to create and perform an original composition in a recital each semester.
The new lab, made possible through Title III funding, also features ear-training and audio-editing software.&ampnbsp Mr. Wellington Gordon assisted in transforming the lab into a facility where Music Industry Studies majors in recording engineering could complete their projects.&ampnbsp After recording musicians in the studio, they can edit and master their work in the lab, freeing the studio for other sessions.
&quotWe had the opportunity to create an exciting new learning environment for our students, including the addition of new desks and even repainting the room,&quot says Dr. Palestrant.&ampnbsp
To make the machines more personable, he named each computer after an important composer, from John Williams to Duke Ellington.&ampnbsp He also created desktop screens with a picture, biography and even audio examples of the composers' work.
&ampnbsp&quotNever waste an opportunity to teach!&quot he says.&ampnbsp &quotI can't wait to see what music our majors create in here.&quot
---