Mr. ECSU All About Getting Involved
---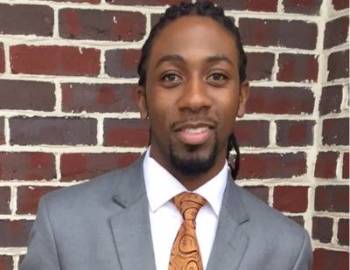 For Mr. ECSU, senior Parsell Murphy, there are few things more important than giving back to the university he calls home. Carrying the title of Mr. ECSU for the 2016-2017 school-year, Murphy has been an active participant in the Viking community since his freshman year.
"It's great," Murphy says about his experience at ECSU. "Since I've been here, I've been very involved in student activities."
Murphy, 22, came to ECSU from his hometown of Roseboro, North Carolina. He says as a high school student there, ECSU students talked about their Viking home, and he liked what he heard so much he became a student.
As a freshman, the business administration student began getting involved on campus. He began life at ECSU has a member of the Viking Marching Band, something he through his junior year.
Murphy also competed for Mr. Freshman, and although he didn't win that race, he never gave up. Murphy would move on to become a student ambassador, a student court justice and recorder – last year he was awarded Student Justice of the Year – and he would go on to become Mr. Alpha Kappa Alpha, Mr. Community Relations Committee, and for the 2015-2016 year, Mr. Junior.
Murphy says he has sought leadership positions while a student here because he saw a need, "to rejuvenate leadership positions."
"I knew I had what it takes," he said.
He also joined the Student Activities Committee, and became a marching band recruiter. And Murphy has done all of this while maintaining his GPA, and his Viking spirit.
And it is that Viking spirit that has inspired Murphy to become Mr. ECSU. He says it was actually the 2014-2015 Mr. ECSU, Donyai Moffatt that inspired him.
"It was his motivation and drive for the university and others," says Murphy. "He always went the extra mile for others."
For Murphy, ECSU is a family. It is a place where he says he's found opportunity and a great deal of student, faculty and staff support. Those are the virtues of ECSU, he says, that he would impart upon a prospective student.
ECSU, he says, is a great choice. The classes are manageable and the support system here is the best.
Murphy will take what he learns here and go on to earn an MBA. He hopes to be an entrepreneur.
---