Mother and Daughter Graduate Students Share a Viking Legacy
---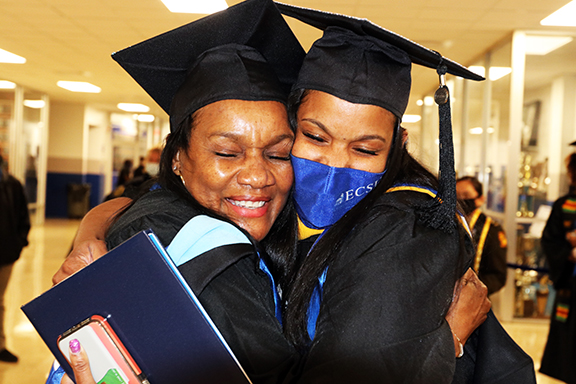 Pam Griffin, left, and her daughter Linea Jacox, hug after commencement, Saturday, May 8. Mother and daughter received their masters degrees.
An integral part of the Elizabeth City State University story is legacy. Generations of families, one after another, find their futures through education on the Viking campus. And some, like mother and daughter Pam Griffin and Linea Jacox, will take it a step further and walk the commencement stage together, receiving their master's degrees. 
Ms. Griffin, 65, is a teacher. She is the mother of four ECSU graduates, and received her undergraduate degree here, too. Her daughter, Ms. Jacox, 39, is also a teacher and when she decided it was time to earn her masters, her mother wasn't far behind her.
"She was a year ahead of me and I thought, I'm not busy," said Ms. Griffin. "The kids are grown, and they've completed their degrees."
Ms. Griffin earned her master's in education and Ms. Jacox earned her master's degree in mathematics. And although Ms. Jacox began a year before her mother, the women walked the commencement stage together on May 8.
Both mother and daughter worked full time and navigated the challenges of a pandemic, all while attending graduate school as full-time students.
These days Ms. Griffin teaches in Virginia Beach. She was a middle school teacher in Perquimans County for 25 years, and once she left, her daughter began teaching STEM at the same school, keeping their legacy as educators in Perquimans County alive and well.
So, the pair made the graduate school journey together and, they say, they were there to motivate one another.
"She was, at a certain point, saying it's graduate school and it's not supposed to be easy," said Ms. Jacox. "She was rooting me on and watching her do it made it a lot easier."
For Ms. Griffin, seeing her daughter work hard gave her the inspiration she needed to pursue her goal.
"It was not easy," she said. "Being older, I was afraid I wouldn't come up to the potential a graduate student is supposed to have. But watching her, I knew I had to do it."
And so, they did it, together. And Saturday, May 8, they walked the stage at the R.L. Vaughan Center. They received their diplomas, mother and daughter.
"Watching her on stage, I wasn't thinking about me," said Ms. Jacox. "I was thinking about her. My mom just did that."
For Ms. Griffin, it was "a double thrill." She could celebrate her accomplishment while also celebrating her daughter's accomplishment.
"It was the best feeling for a graduation I have ever had," she said. And she's been through a few graduations.
Her other three daughters are successful alumnae of ECSU. One is a chemist, another is an outreach coordinator for a retirement community, and the other works in account services for the National Health Care Corporation.
Both Ms. Griffin and Ms. Jacox say they'll continue to teach. And while Ms. Jacox isn't certain if she'll continue down the road of higher education at this point, her mother says she will now pursue a doctorate degree.
Whatever their next steps are, however, they know that they are continuing to be a part of the Viking legacy. And they will, they say, cherish the opportunities they have been afforded by ECSU.
"It's a moment we will always have," said Ms. Jacox of graduating with her mom.
---