Morris receives appointment to the US Air Force Academy
---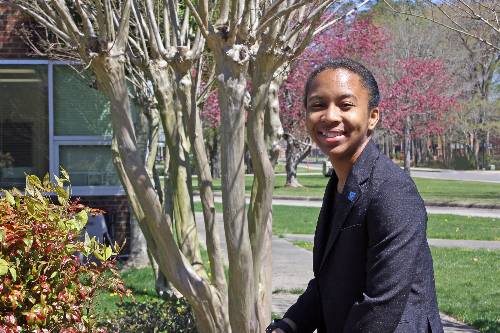 By Dr. Kuldeep Rawat
Taylor Morris, an aviation science major at Elizabeth City State University, received an appointment to the United States Air Force Academy (USAFA) in Colorado Springs, Colorado.
The USAFA is one of five US military academies for officer candidates and offers an excellent option for students who are interested in serving their country and receiving a quality education at no cost. The USAFA's stated mission is &quotto educate, train, and inspire men and women to become leaders of character, motivated to lead the United States Air Force in service to our nation." Graduates of the Academy's four-year program receive a Bachelor of Science degree, and are commissioned as second lieutenants in the United States Air Force.
Morris received her appointment based on her superior academic achievement, demonstrated leadership and impeccable character. She was one of 1,200 students selected nationwide from 9,700 students who applied. From Fayetteville, NC, Morris comes from a long line of military service members. To gain admission, she secured a nomination from the member of Congress from her home district. The ECSU Department of Technology is excited for her noteworthy achievement and wishes her great success with a career in the Air Force.
Elizabeth City State University was named by Washington Monthly as one of the "Best Bang for the Buck" institutions. The publication also ranked ECSU number one for the fourth consecutive year on its list of 'Best Baccalaureate Colleges.' ECSU has 28 undergraduate degree offerings and four graduate degree programs, flexible study options, and research opportunities.
---