MODEL Scholars program succeeds in bringing bright students to ECSU
---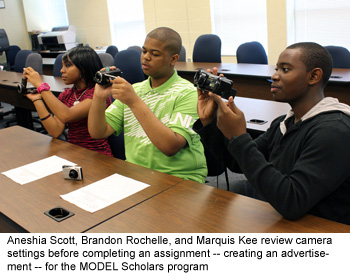 Kesha Williams
July 12, 2011
For the third consecutive summer, Elizabeth City State University is offering the MODEL Scholars program to prime high school graduates for their freshman year of college.
In some cases, the students' grade point averages or SAT/ACT scores don't reflect their ability to perform at the college level. Students in the intense, five-week program get the boost they need for success. MODEL stands for Motivation, Opportunities, Determination, Excellence and Leadership.
This summer, 74 high school seniors from across the state are participating on the ECSU campus. It is one of three such programs funded by the University of North Carolina General Administrative Office that is being offered. Each program has a unique name and ECSU's program is highly successful based on retention rates among participants of the MODEL Scholars program from the last two years.
In the program's first year in 2009, 80.7 percent of the students are still enrolled in college and have at least a 2.0 grade point average. Similarly, from the 2010 MODEL Scholars program, 81.3 percent of the students remain enrolled with at least a 2.0 grade point average.
The primary purpose of the program is three-fold:
To engender an academic environment whereby students earn six university credits towards their degree.
To facilitate students' acclimation and adjustment to university life.
To promote peer-to-peer bonding so that continued matriculation is the norm rather than the exception.
The students' summer schedule is rigorous and intensive. MODEL Scholars are in class seven hours each day, completing coursework in freshman English and algebra. They also must attend evening study hall in the university library Monday through Thursday. Because the university promotes a holistic approach to students' growth and development, MODEL Scholars have the opportunity to engage in physical education, personal-social development and cultural enrichment activities as well.
Dr. Monette Williams, director of ECSU's Model Scholars program, said the program is a good investment in students who might otherwise enroll at community colleges.
&quotThese students may not appear to be the strongest students in terms of high school grade point average and standardized test scores. Because of that, it is crucial to provide them with the additional support, instruction and engagement they need to prepare for successful university matriculation,&quot she said.
Also working with the students are 12 mentors, eight of whom have been MODEL Scholars in the past.
---